Update: Since publishing, KIND* Shave Oil has changed its name to TICO* Shave Oil, and can now be found at www.ticoshaving.com.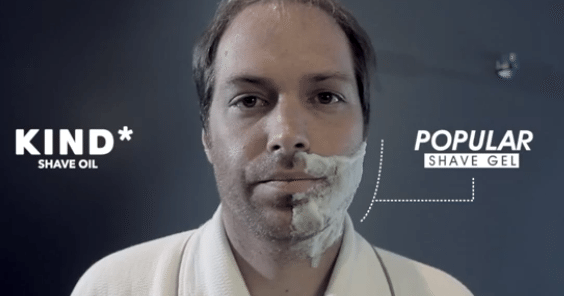 KIND shave oil is crowdfunding an alternative to shaving cream.  Shaving is not something I have ever looked forward to doing.  But then I happened to watch their "Pitch" video and I experienced an epiphany, of sorts, that maybe I was missing out on what shaving should be.
First off – the stuff I have been using I need to get rid of – because it is akin to slapping toxic waste on my face and it has suffered enough abuse already.  Then I discovered that with all the good, organic, non GMO, magic infused ingredients available I had to change. And KIND Shave Oil is the one.
KIND is an interesting example of entrepreneurs, from Austin no less, taking a commodity product and turning it into some thing special.  The creators quickly point out that many shaving creams today use ingredients which are really not too healthy.  Their product has an ingredient list that includes; organic grapeseed oil, organic hemp seed oil, organic olive oil, organic jojoba oil, organic cranberry oil… and so on.. throw in some organic vitamin E and after all that goodness you will probably be 3 inches taller and have lost ten pounds after you shave.
The offering is doing a self crowdfunding campaign so they have decided to stay clear of the large platforms.  Looking to raise $15,000 they have surpassed their mid point of $7500 with support from 117 backers.  Rewards start at $1 and go up to $4500 which includes a trip to Costa Rica.
The product is being marketed as a 4 in 1 solution for pre-shave + shave oil + after shave + moisturizer.  The founders took two years to refine their formula and now their pretail type crowdfunding campaign is the final boost they need.
So whether you shave or not, check out the pitch video below.  It's worth the 3 minutes.
Have a crowdfunding offering you'd like to share? Submit an offering for consideration using our Submit a Tip form and we may share it on our site!