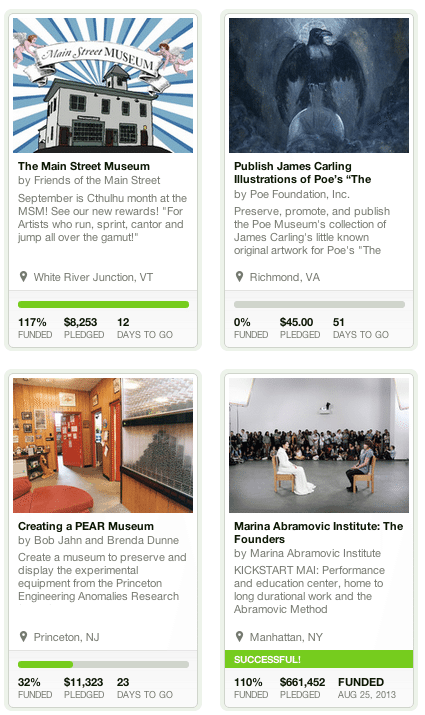 As Kickstarter continues to tackle their challenge of rapid growth, the erstwhile crowdfunding leader has added another page to their growing list of siloed sub-categories.  #Museums was created to manage the growing number of museums from around the country which are using the Kickstarter platform to raise funds for diverse needs.  The projects span from very small one off artistic projects to more major endeavors.  The Marina Abramovic Institute raised $661,452 on Kickstarter just this past August.  Almost 5000 contributors supported the campaign.
Kickstarter currently has almost 4000 live projects.  The category "Art" has over 300 active campaigns today but the Museum genre spans several categories such as Photography or Design thus a Museum sub-category makes sense for contributors interested in supporting the arts.
Kickstarter as of today tags 15 subcategories ranging from Arctic to Zombies (Zombies continues to be very popular).  Platform users can expect the list to grow as the number of curated pages and subcategories expand to manage the growing number of rewards based crowdfunding campaigns.