Ayn Rand's Atlas Shrugged is a hugely influential (and hugely controversial) piece of literature. A Library of Congress survey famously placed Atlas Shrugged as the second most influential book ever produced. Number one? The Bible.
The book was turned into a movie series starting with Part I in 2011. The film was largely panned by critics, but public perception of the film seems to have followed the general narrative surrounding her works; Most either love them or hate them. Regardless, the movie was an objective box office flop. After six weeks the film had failed to garner a quarter of the $20 million production budget in ticket sales.
Part II was given a smaller budget than Part I due at least in part to a lack of sales success, and the result was largely the same. Regardless, the production team behind the series is pushing forward with a Part III, and they've taken to Kickstarter as a way to market the movie's coming release and give fans a chance to connect with the film.
The team explains that the project is already funded. The Kickstarter funds will be used to extend the existing budget, but at its core the campaign is really all about marketing.
The $250,000 campaign has raised just short of $150,000 to date, but the most remarkable part of the campaign is how they've raised the money. A breakdown at the time of writing…
22 backers have given $1,000 or more to have their name in the credits
2 people have pledged $5,000 or more to be an extra in the film
2 backers have pledged $7,500 or more to have their name carved into John Galt's house in the film
5 people have pledged $10,000 or more to attend the premiere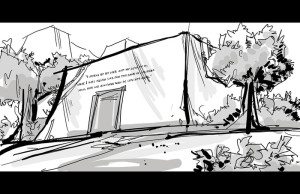 These 31 people account for at least $97,000 of the total raised, an incredible amount that represents about two-thirds of the total funding to date. It is reminiscent of how Spike Lee raised his funding on Kickstarter. 35 people donated $10,000 or more to his campaign.
Of course, where you have Ayn Rand's work you have controversy. Some Kickstarter backers have pledged a dollar for the right to criticize the film (and Rand's philosophy) in the comments. One backer succinctly commented: "Atlas Begged."
The film's producers took to the FAQ page to address those that are criticizing their use of Kickstarter as being "antithetical to Ayn Rand's philosophy."
Kickstarter is not charity and we do not seek charity. We are offering a voluntary value-for value trade. Regarding the idea of charity however, Ayn Rand had no problem with someone giving money to a cause they care about. If someone deems a cause worthy and wants to donate money, they should be free to do it. What Ayn Rand had a problem with is altruism for the sake of altruism as a moral duty, or being compelled, or forced, to "give." The Atlas Shrugged Kickstarter campaign is of course a voluntary value-for-value exchange. You are not obligated to contribute.
Have a crowdfunding offering you'd like to share? Submit an offering for consideration using our Submit a Tip form and we may share it on our site!

Sponsored Links by DQ Promote