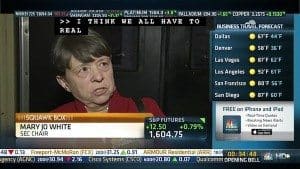 In a speech delivered in Chicago, SEC Chair Mary Jo White outlined her approach regarding the SEC's enforcement approach.  Calling for a need to be both "aggressive and creative", the Chair described a strict approach where both large and small cases will be pursued.
White stated that, "until recently, the SEC – like most other federal agencies and regulators with civil enforcement powers – settled virtually all of its cases on a no ­admit ­no deny basis. Generally, a party would pay a hefty penalty and agree to an injunction against future misconduct, but neither admit nor deny the wrongdoing asserted by the SEC in a court complaint or set forth as findings in an order instituting administrative proceedings… But sometimes more may be required for a resolution to be, and to be viewed as, a sufficient punishment and strong deterrent message."
White indicates her approach is being influenced by the time spent in the criminal arena.  She stated she has re-examined the SEC's approach and has determined there is a special need for public accountability and responsibility.
White's tough talking presentation belies a firm belief in the SEC's mission and responsibility to protect investors.  While her tenure has just commenced and it is not completely clear how words will manifest itself in actions in the years to come, White is clearly staking her claim as the new leader in the United States top securities regulator.
The speech in its entirety is posted below.
_____________________________