"Sharewave is the hassle-free solution made exclusively for private companies, from the smallest startup to the largest pre-IPO." said Joshua S. Levine, Sharewave co-founder and CEO. "It is simple, yet powerful and intuitive, so companies can spend more time building their business and less time worrying about stock records, option grants, investment dates and amounts, paperwork, signatures, certificates, audit trails and more."


Sharewave has been in heads-down mode for the better part of this year building a cloud-based solution for managing investor relations.  The company aims to bridge the communication gap between small, private companies and their investors.
Why is now the time for a company like Sharewave? Because the JOBS Act promises (eventually) to open the private marketplace to all investors. If that spurs the type of activity much of the crowdfunding industry is hoping for, those investors are going to want to know how their companies are doing, and from time to time companies are going to need to share information or communicate with their investors, too. All of this can happen on Sharewave.
Private companies are increasing in number, fueled by angel investors, venture capital, private equity and flexible financing options such as crowdfunding. Without Sharewave, they use a mixed bag of tools like Dropbox, Microsoft Excel, Microsoft Word, Adobe PDF, email and fax to manage and communicate with shareholders. This is all time consuming and painful, especially chasing down signatures, certificates and documents with no audit trail. Sharewave gives you everything you need to communicate with investors, including their level of interaction.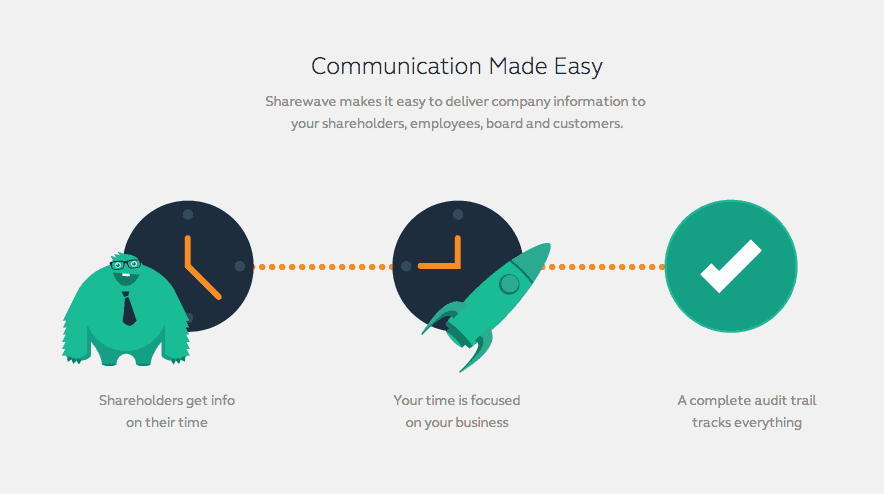 One really cool feature: the ability to collect legally-binding e-signatures. This alone solves a major headache for the Internet-enabled marketplace. Audit trails, permissioning systems and cap tables are also part of the system.

Sharewave is granting access in order of how the invites were received, so it isn't open to the public quite yet, but it will be soon. Interested parties can request an invite at sharewave.com.

Sponsored