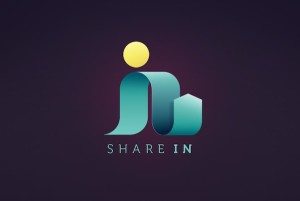 The United Kingdom's first tech focused equity crowdfunding platform is prepping for launch.  ShareIn is expected to go live later this month.  As investment crowfunding has picked up steam in the UK there has been a growing number of platforms announced on both the equity and debt side and ShareIn is the most recent addition.
Founded by four entrepreneurs the company is being led by Managing Director Jude Cook who began working on Share In back in 2011.  A chartered accountant by training who previously worked at the global firm Deloitte Touche and BT, a global communications service company.  After a few years of from the corporate routine to be a full time mom, Cook got back into things as a Freelance Consultant and SME advisor. Now she is launching her own, innovative platform and she is targeting tech.
Cook recently stated, It's clear capital markets are currently broken. They are no longer about allowing companies to raise capital but are largely about paper being passed around the system. That's a zero sum gain and doesn't benefit the economy. Allowing investors to put their money directly in who or what they believe in without layers and layers of intermediaries (fees) is brilliant! And having a choice of how they do that is important.

The ShareIn team is rounded out with the other co-founders including Gemma Butler & Gav Gordon-Rogers both Creative Advisors.  This creative team has worked in advertising and digital for about 15 years.  Co-founder and Head of Web Development Andrew Picket combines an MBA with software engineering skills.
The target market for Share In is for companies looking to raise £30,000 up to £1,000,000.  The investors they are looking for is a profile of anyone over 18 who is savy enough to understand risk and willing to invest from £10 and up for exciting new startups.  Outside of a desire to help fund new businesses, create jobs and launch a very cool crowdfunding platform, the motivation for starting a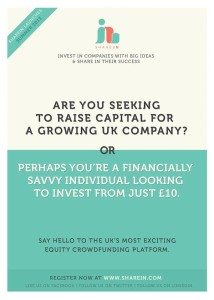 crowdfunding platform is clear:
UK Banks have significantly reduced their role in funding SMEs do to various reasons
Business Angel networks receive an estimated 10,000 proposals per year – yet fund only about 300
Returns from low interest rates are rather paltry these days and sophisticated investors are searching for greater returns
ShareIn has a few interesting differences they are incorporating into their operations, including a point earning system where the more you invest the more points you earn.  You may also earn points by asking your friends to join.  As you gain these points you may use them to purchase shares in companies listing on the site.

The company also allows for a minimum funding goal along with a stretch target.  Stretch goals have become a commonplace strategy for sophisticated rewards based crowdfunding campaigns.  ShareIn sees no reason to quell momentum if an offering has generated significant interest.

ShareIn is currently in the process of applying to the Financial Conduct Authority (FCA).  The site does not offer investment advice and expect investors should understand the risky nature of investing in small companies.  Investors will hold the shares directly as opposed to a nominee structure where the platform holds the shares and acts in the interest of shareholders.  All ShareIn listed companies are expected to offer full voting, ordinary shares, which is a point of discussion on other equity crowdfunding platforms where some shares do not hold voting status.

The United Kingdom continues to lead the world in the democratization of finance and access to capital.  ShareIn is set to be another prime example of the creative possibilities within the investment crowdfunding world.

Sponsored Links by DQ Promote