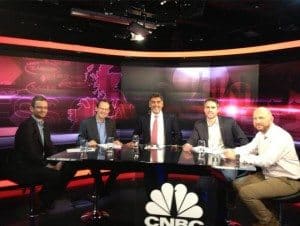 James Caan is one of the United Kingdoms' most successful entrepreneurs.  Caan made a fortune in the recruitment industry building his companies Alexander Mann and Humana International.  In 2004 he founded private equity firm Hamilton Bradshaw which lists a portfolio of more than 30 companies.  He is also a "Dragon" from the BBC's hit show the Dragon's Den where he has invested £1 Million in 14 different companies.
A dedicated supporter of startups, Caan has launched a new program on CNBC called the Business Class.  For his third episode he has taped a segment with Luke Lang and Darren Westlake – co-founders of equity crowdfunding platform Crowdcube.
The segment is being prepared to air on November 4th, 2013.
Crowdcube has been a forerunning in the equity crowdfunding world having raised almost £14 Million for 73 businesses.  The portal lists over 47,000 registered users who may invest in startups using the crowdfunding platform.