BigLeap, the world's first crowdfunding prize and reward network for social good, is excited to announce that its first Challenge has passed its funding milestone and is moving into its competition phase.
BigLeap's first challenge is championed by Professor Silvia Bunge, a neuroscience and childhood learning expert at U.C. Berkeley, and Bill Ritchie, the CEO of ThinkFun games. The challenge will give children everywhere access to fun, social, interactive games designed to engage the brain circuitry that supports reasoning.
"Neuroscience research shows that what we do on a daily basis influences how our brains function, and behavioral studies in children suggest that the right kind of play is more than just fun—it can actually improve reasoning skills. Putting these two lines of research together, we believe that, over time, practice with mentally challenging games can strengthen the brain network that supports reasoning," says Bunge.

"We are at the cusp of a real revolution in how we define play," adds Ritchie. "We are incredibly excited to have passed the first stage of our BigLeap Challenge. As a result we now have a $10,000 prize pool to get the best minds across the country thinking about creative new game programs that can do exactly what Silvia describes."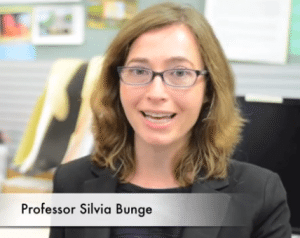 Competitors to the Challenge will be asked to submit their ideas for a game that teaches critical thinking skills, can be made using common or low-cost items, and incorporates one or more of the following:
Improves Executive Function – Stresses working memory, reasoning, task flexibility, and problem solving as well as planning and execution.
Promotes physical activity – Requires physical activity and movement while stimulating the mind.
Fosters teamwork – Brings people together to inspire teamwork and creative problem solving.
Is designed for tournament play – Challenges critical thinking, problem solving or math skills while elegantly balancing different skill levels in players.
"Sometimes, the best solution for a problem comes from the people you would never think to ask," says Victor Cho, co-founder of BigLeap. "We fundamentally believe that there are tens of thousands of people, probably even more, around the world who have a passion for children's education, know how to keep young students engaged, and could come up with a compelling new game program for this competition. Our site simply enables advocates like Bill and Silvia to create the incentive to bring those people forward to create meaningful impact."
The competition formally kicks off on November 2nd, 2013 and will run through December 2nd, 2013. New competitors can join the Challenge at any time up until the submission window. Winners will be selected and announced on December 16, 2013 after a two week judging period that includes both education and gaming experts as well as real-world feedback from school children. The winning concepts will be made available, free of charge, to the world via electronic download. $10,000 in total prizes will be awarded, made up of a $5,000 first prize, $2,000 second prize, and three $1,000 runner-up prizes.

Sponsored Links by DQ Promote