Since 2006, Terrafugia has raised over $10 million from investors in order to design and develop the Transition, a flying car that is said to be market-viable and ready to deliver in 2015. The company is seeking $500,000 in additional investment on Wefunder to bring the Transition to market, and specifically to finish the design on the company's third prototype model.

The team at Terrafugia boasts some impressive bona fides, including 123 combined years of aeronautical engineering experience and  9 MIT degrees, two of which are 2 Ph.Ds'. Among many other accomplishments listed on the campaign page, co-founder and CEO/CTO Carl Dietrich was recognized by the MIT Aero/Astro Department as the youngest of sixteen alumni who have shown "extraordinary accomplishment" in 2000.
Of course, there aren't many riskier investments than a flying car startup. Many things have to go right for a product like this to scale. For one, flying cars have to find an audience. However, Terrafugia may have cracked that difficult goal. The team says they have $30 million worth of preorders secured.
That doesn't exactly represent mainstream-level scale, but it may be enough to sustain the company in the short-term.  The company says they would have to sell 40 units per year in order to break even.
The Transition's Rotax 912 iS engine has the highest power density and lowest specific fuel consumption of any proven, certified, four-stroke aircraft engine, thanks to its combination of a lightweight aluminum block with tight tolerances and Nikasil cylinder liners. This engine runs on premium auto gas, has a 2000-hour Time Between Overhaul (TBO), and a built-in gearbox that lets the pistons and crankshaft run faster, for greater power density.
The Transition is said to get 35mpg on the highway and the 23 gallon tank gives it a range of 800 miles on the road. It gets less miles per gallon in the air, but the 100 MPH speed and lack of twists and turns mean getting to your destination far faster than by car.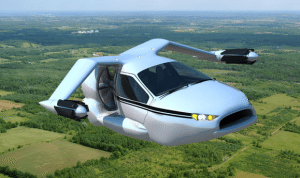 Long-term, the team has a goal of developing an improved version of the Transition dubbed the TF-X. It aims to improve upon the design of the Transition with a vertical takeoff feature among other improvements.
In the U.S., car commuters today spend an average of 52 minutes per day driving at just 17 mph– and these numbers are getting worse. By saving this lost time, a TF-X-like flying car would effectively inject $800 billion per year back into the economy. In the TF-X world, flying cars will provide the same door-to-door convenience that automobiles do today, except that the roads will be in the air and not on the ground. A pilot could walk out of his front door at 8am on Monday morning in Boston, and open the door to a board meeting in Manhattan just 1 hour later
Have a crowdfunding offering you'd like to share? Submit an offering for consideration using our Submit a Tip form and we may share it on our site!

Sponsored Links by DQ Promote