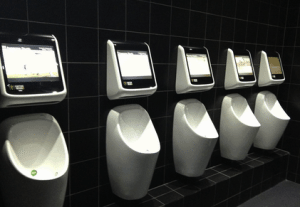 Captive Media is a startup aimed at bringing the "world's first contact-free, networked, interactive washroom media system" to market. In a nutshell, they make an interactive urinal system.
The group raised over £250,000 in an equity play on UK-based Syndicate Room. Their pre-money valuation was £2,410,000. The raise was in exchange for a total 9.4% equity stake in the company. 16 investors participated in the raise.
The system uses a computer interface paired with an infrared sensor that allows men to aim left or right to interact with what is happening on the screen. It is an interactive form of advertising that some say is a hit.
Their map of installations is impressive, with customers concentrated in Europe and North America. Stateside installations can be seen in Washington DC, New York City and Chicago among other locations.
Advertisers buy into the system and their brands become part of the game. Advertising customers include Heineken, Corona and Pepsi. That means two revenue streams for the company in the form of installations and advertising.
[h/t TechCrunch]