Arizona State University's new, official crowdfunding platform is helping faculty and student researchers find support for unique and socially beneficial studies.  Crowdfunding is a growing method to incubate ideas, capture feedback and generate support and ASU has launched their site with diverse campaigns.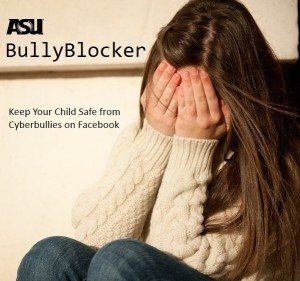 BullyBlocker is the first of several ASU research projects kicking off crowdfunding campaigns this month. The campaigns are being managed by the ASU Foundation for a New American University. Several student ventures have already launched campaigns through the program. Now, the Office of Knowledge Enterprise Development (OKED) is managing a new effort for faculty research, kicking off a rolling pilot period in December through the new year.
BullyBlocker, a new tool being developed by ASU faculty and students, analyzes Facebook data for signs of cyber-bullying and alerts parents that it may be occurring.  The project was originally conceived by Yasin Silva, an assistant professor in ASU's School of Mathematical and Natural Sciences, and Lisa Tsosie, an undergraduate studying applied computing in the school, which is part of the New College of Interdisciplinary Arts and Sciences. Tsosie earned a Google Women of Color Scholarship to present the project at this year's Grace Hopper Celebration of Women in Computing.
New drugs for superbugs
Each year in the United States, at least 2 million people become infected with bacteria that are resistant to antibiotics. At least 23,000 people die each year as a direct result of these infections. As germs adapt to the drugs we use to fight them, such drug-resistant diseases are on the rise.
Chris Diehnelt, an assistant research professor in the Biodesign Institute's Center for Innovations in Medicine, is leading a campaign to raise funding to study new, potentially more-effective antibiotics and pharmaceutical responses to infections and diseases. This campaign will launch in late December.
Methicillin-resistant Staphylococcus aureus (MRSA) is one of the most widely-known antibiotic-resistant bacteria that affects people. It is particularly troublesome in hospitals and other health care facilities. ASU assistant research professor Chris Diehnelt is launching a crowdfunding campaign to support research into effective treatments for drug-resistant infections. Photo by: Janice Haney, Centers for Disease Control and Prevention
By running their campaigns through this program, researchers receive training on effective fundraising and coaching throughout the campaign, can use the ASU logo and branding, and can allow donors to claim their contributions as a charitable donation.
Imaging the future
Understanding how living creatures – including humans – function requires us to see what's happening beneath the surface, often at a microscopic scale. In the past, this kind of research meant harming or even killing the subject being studied. A group of ASU undergraduate students is using cutting-edge imaging techniques to study novel or abnormal bones, muscles and other tissues without harming the subjects.

The students work in the lab of Lara Ferry, an associate professor in the School of Mathematical and Natural Sciences in the New College of Interdisciplinary Arts and Sciences. They have chosen to study tiny fish no bigger than a finger. Fish are vertebrates, like humans, but have a huge degree of diversity. Fishes can provide a lot of information about bones, joints and muscles. For example, they have more than 100 separate bones in their heads and dozens of mobile elements, as opposed to the one moving element – the jaw – in people.

The team uses microMRI (magnetic resonance imaging) and microCT (computed tomography) to visualize small structures beneath the skin on live specimens. This campaign will launch on December 20.

ASU's crowdfunding platform is powered by the USEED platform.  Because contributions are made through the ASU Foundation, a nonprofit organization that supports ASU, donations may be considered charitable contributions.

Sponsored Links by DQ Promote