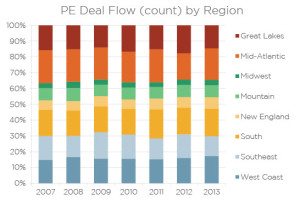 As should come as no surprise California leads the charge in private equity deals over 2013 according to a report in PitchBook.  California saw 272 PE deals through 2013 and has in fact led over the past 6 of the 7 years.  The state of Washington had 48 with Oregon in third at 23.
As far as regions go for all PE deals in the United States for 2013.
South  – 17.4% with 352 deals
West Coast  – 17.2% with 348 deals
Mid-Atlantic – just under 20% with 402 deals
Great Lakes – 14.6%
Mountain – 7.7%
New England – 7.3%
As clarified in the PitchBook posting, mega-buyouts like Heinz in the Mid Atlantic and Dell in the South skewed the data to some degree.