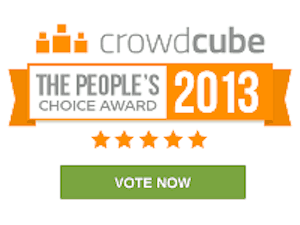 Crowdcube, a leading equity crowdfunding site, has announced their awards for 2013.  As one could imagine the competition was challenging as so many cool startups were crowdfunded on the UK based platform during 2013.  There  was one recognition chosen by visitors to the site:  "The Peoples Choice Award" where over 1500 votes were tallied.
Below is the list of all the awards for 2013:
The People's Choice Award – Playrcart
The Playrcart App lets you browse and watch video content, then buy the related products, without leaving the Player and is usable on any device. Typically users that wish to purchase viewed content are being redirected to a third party site to fulfil the transaction. Playrcart gives users the ability to view content then conveniently buy merchandise or tickets from within the app, all in one window.
The judges commented; "Playrcart had  alot of support whilst they were pitching for funding, not least here in the office, and this certainly shows in the voting. This business is really unique, it's disruptive and is the future of online purchasing."
Pitch of the Year – Hab Housing
Hab Housing, established by Kevin McCloud, is a developer of sustainable housing with a strong focus on the custom build market.
The Judges said;  "This pitch really inspired investors, the business had a great Management Team behind it and we can see the potential of the company to do great things in the future."
Entrepreneur of the Year – OVIVO
OVIVO is an Advertising & M-Commerce Supported Mobile Virtual Network Operator (MVNO), which buys wholesale airtime from Vodafone UK through our aggregator, Cognatel UK.
The judges said; "Darius was totally focused on his fundraising, he was committed, organised and this showed in his pitch and his business. His pitch was executed perfectly both times, making him the perfect entrepreneur to work with."
Coolest Brand of the Year – Kamm & Sons
Kammerlings Ltd launched its unique 33% abv ginseng-based spirit in April 2011. With its 'medicinal' bottle, it plays to the modern consumer who is more health conscious and is looking for something special without sacrificing
The judges had this to say: "The branding, the entrepreneur, where it is being sold; they all shout one thing – cool."
Best Video of the Year – Inspiral
Creators of inSpiral Raw Kale Chips, a range of 'free-from' optimum nutrition raw snacks that are an alternative to potato chips
The judges commented: "Inspiral's video was great, it was professionally produced and inspirational; featuring crowds of people taste testing the product and all loving it. A great advert for the product and the company."
SilkFred is a gateway to the £21b UK fashion market. It's a fashion technology start-up powering independent fashion brands.
The judges had this to say: "SilkFred ran a great pitch and have a great online business of which we hope to see more in 2014. That like us, they celebrate UK businesses and designers who are just starting out, gives them a soft spot in our hearts."
JIVE is an electric, folding and chainless city bicycle that aims to eliminate all the hassles faced by cyclists and urban commuters.
The judges commented: "We are all rather excited by the JIVE bike,  it's going to be a revolutionary product and even the die-hard mountain bikers amongst us have been swain by the looks of the JIVE."
Environmental Business of the Year – Solarmass
Solarmass Ltd have designed and developed a lightweight, highly-efficient solar panel which is aesthetically pleasing with the appearance of a regular roof tile designed to be part of the roof cover. The manufacturing and transportation process is more sustainable than traditional solar panels.
The judges said; "Solarmass deserved to win this category, we love this business and think that that the product has a great future."
Best Startup of the Year – Pizza Rossa
The judges had this to say: "Corrado really struck a chord with us, he was one of the most positive entrepreneurs that we have dealt with and we feel that his business will go far as did all those investors who took a slice of the business in such a short time." 
Tech Business of the Year – Cell Guidance Systems
Cell Guidance Systems make research tools to aid stem cell scientists. Stem cells are being developed to provide treatments for diseases inc. stroke, coronary disease, diabetes and Parkinson's.
The judges said: "Cell Guidance Systems stormed their funding, it was a very exciting time and we were honoured to be a part of it."
Service Business of the Year – Asset Match
Asset Match is an electronic platform that allows investors to buy and sell shares in established, predominantly UK, private companies, which traditionally have been hard to access.
The judges said: "We are thrilled that Asset Match won this, it's a great business that is disrupting  the industry and we hope to hear a whole lot more from them in 2014."
Have a crowdfunding offering you'd like to share? Submit an offering for consideration using our Submit a Tip form and we may share it on our site!