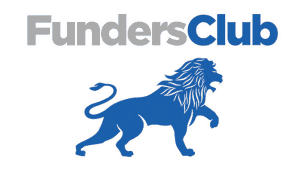 FundersClub is just a little over 18 months old now. The equity crowdfunding platform for accredited investors has just published its first report on unrealized net Internal Rate of Return (IRR), and the numbers are telling.
First, note that FundersClub is realistic about this data; It's deemed "unrealized" for a reason. In a recent blog post about the data dump, FundersClub Venture Associate Jerrod Engelberg explains a bit of the methodology behind the numbers. "Although we lack meaningful exit data, many of our portfolio companies have gone on to raise follow-on funding from premier venture capital firms and those VC firms set an equity valuation.," the company said. "Of course, gauging performance of venture capital investments after 18 months is a bit like gauging the winner of a marathon after mile three: you can start to gather a sense of how things may unfold, but the journey has barely begun."
Having said that, FundersClub's final IRR after administrative costs and carried interest: 41.2%.
How does this stack up to the public indices? The charts…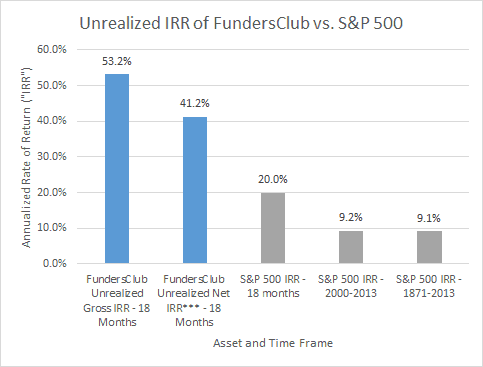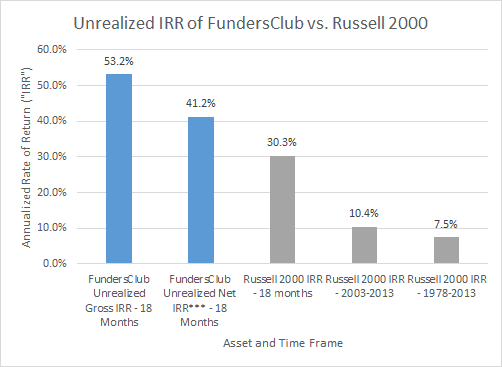 So, the effective unrealized IRR of 41.2% has outpaced even the S&P 500, which has been on a tear. 2013 was the best year for the S&P 500 in the last 16 years.
Of course, there are stark differences in liquidity between interests in private and publicly listed companies that need to be taken into account. Still, these numbers further demonstrate why so many were and still are excited about Rule 506(c), Regulation A+ and the proliferation of the private marketplace.
Mattermark is a company that supports a software tool allowing people to track hundreds of thousands of global startups. In a recent blog post, they juxtapose these FundersClub numbers against the IRR of Union Square Ventures…
While these early results my raise some eyebrows, and can hardly be called predictive, it is interesting to note that FundersClub topped the rankings in our initial investment portfolio momentum benchmarking study from December 2013, beating out Union Square Ventures — whose IRR was reported to be 61.12% as of November 30th, 2013.
FundersClub nods to the "Power Law" being at play; In short, returns on startup investments are said to be exponential, and much of the returns of any given fund focusing on early-stage companies are usually centralized in the top-performing companies. This serves to establish diversification as a key tactic for startup investors.

Sponsored Links by DQ Promote