Oregon-based Carbon Audio has one successful Kickstarter under their belt. The company raised over $70,000 on a $25,000 goal for the Zooka, a wireless speaker for iDevices.
The crowdfunding success was also accompanied by a $1.5 million round. The product eventually found its way into the Apple App Store and some retailers, but all was not rosy in retail. Sales were soft and the company eventually had to cut staff.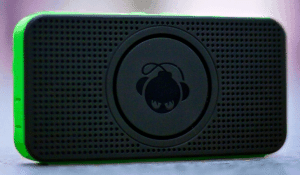 A second product from Carbon Audio, their Pocket Speaker (pictured, right), is now the subject of a lawsuit filed against Monster Cable Products.
Carbon Audio alleges that Monster nabbed an early prototype of their pocket speaker from the same Chinese manufacturer Carbon was using. Monster then allegedly used the same plant to manufacture a pocket speaker of their own, and that speaker shared characteristics with Carbon's offering – the sound it makes when turned on, for example – that has Carbon looking for compensation and damages.
Monster argues that the idea of a pocket speaker isn't original and that the design itself mimics that of the iPhone, compromising Carbon's claim to IP. There's also an interesting allegation surrounding a meeting with Kevin Lee, son of Monster CEO Noel Lee and VP of Corporate Strategy for Monster. In the meeting dated in early Summer of 2013, Carbon Audio showed Lee a prototype pocket speaker.
[h/t Oregon Live]