RealCrowd, a real estate crowdfunding platform for commercial real estate, has been involved in the successful funding of over $110M in deals through its platform.  RealCrowd launched their site  in August 2013 and sets it apart as one of the most active institutional quality commercial real estate investment platform in the United States.
"This is significant for us, internally. It confirms that even in the short time since launching, our platform is performing on the right level for operators. They're getting excellent deals funded, with investors and transactions managed much more efficiently," says CEO Adam Hooper.
RealCrowd has allowed access to cashflowing office, industrial, retail and multi-family investment properties from coast to coast. Deals have ranged from office buildings in San Francisco, large apartment complexes in Colorado and Arizona to office and retail buildings in the Washington, DC area.

Seed funded by investors including YCombinator and Andreessen Horowitz, RealCrowd is a commercial real estate platform for operators and investors built around SEC Rule 506(c), which lifts the ban on general solicitation of certain securities to accredited investors.
In addition to leveraging the new regulatory environment, RealCrowd offers a full suite of investor management and transaction tools to real estate operators and developers, bringing tremendous efficiencies to the private capital fundraising process.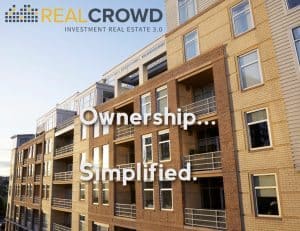 RealCrowd's full-stack solution provides all of the working parts operators and investors need in order to connect, administer, invest and transact. Operators set the investment minimums giving them finer control over their offering. Document distribution and communications are highly-automated, freeing up resources for higher-value tasks.
Accredited high-net worth investors receive centralized access to institutional-quality offerings diversified across the United States, ranging from office, industrial, retail, and multi-family to institutional funds.
The platform connects investors to deals without cutting into returns, and investors are given access and the freedom to invest without any fees attached. Rather than basing its revenue model on fees charged to investors, RealCrowd monetizes itself as a Syndication as a Service platform for real estate operators and developers.
Its technology stack is aimed at high-quality real estate operators seeking to communicate offerings, grow investor networks efficiently, and scale their businesses without increasing overhead.
"RealCrowd allows us to spend less time on administrative tasks and more time doing what we do best: finding and operating profitable deals. RealCrowd ultimately allows us to focus on high-value activities," says Arvind Chary, operator with Atlas Real Estate Partners.
Sponsored Links by DQ Promote