Yancey Strickler has only recently become Kickstarter CEO taking the place of his best friend Perry Chen.  Strickler has been doing the media rounds of late touting the crowdfunding gospel.   This past week he visited Charlie Rose where he was interviewed by august journalist.
The video is worth a watch as Yancey shares a few interesting insights including the fact that he (and his co-founders) never intend on taking the company public.  They view Kickstarter as a "public trust" – a place of opportunity for anyone.  They want to keep it a privately held, independently controlled institution.  Kickstarter is making a better world creating a culture we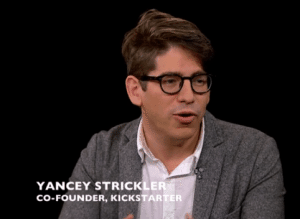 want instead of accepting a culture we have.
Yancey states they will continue to expand the platform into additional countries this year – something that should come as no surprise to anyone.
Asked about his favorite campaigns? Yancey states he likes the weird ones including Trash Dance (worth a watch).  Heros?  Kanye West made the list.  Give the interview embedded below a watch.
__________________________