Real estate crowdfunding platform AssetAvenue has officially launched its online marketplace, providing pre-vetted investment opportunities with real estate operators from across the country. The platform will allow real estate operators to promote offerings based on rules enacted last fall and legalized under the JOBS Act. The company's first completed deal raised $485,000 from investors in less than 48 hours to acquire a commercial real estate loan backed by office space in the Trump Palace, the tallest building in New York City's Upper East Side neighborhood.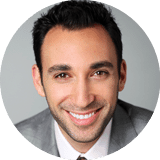 The AssetAvenue management team has a combined $10 billion in real estate acquisitions experience and deep industry relationships to deliver  solid deals, which the team sees as its advantage.
"Investors care first and foremost about access to the highest quality deals," said David Manshoory, founder and CEO of AssetAvenue, "and that's where AssetAvenue stands out. We're opening access to the kind of opportunities that investors used to only hear about after the biggest players had already snapped them up."

"Closing our first deal on a property like the Trump Palace — and within 48 hours — is indicative of what we plan to bring to the industry," said Kevin Arrabaca, president of real estate investments. "Investors in this deal are projected to earn a nine percent annual return, paid on a monthly basis, on a loan that is only 46 percent of the recently appraised property value."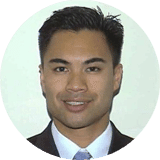 AssetAvenue's member base offers real estate operators and sponsors a new and growing source of investor capital to help fund properties. The AssetAvenue team handles all investor distributions, communications and relations, allowing operators to interact with only one intermediary and focus on what they do best.
"Our model is simple: smart money follows great deals," added Manshoory.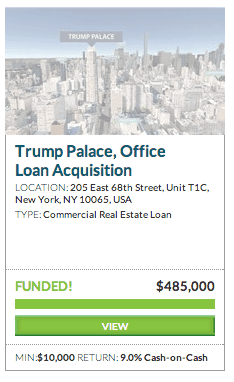 Investors may contribute as little as $10,000 per property, allowing investors to diversify their portfolio across multiple assets and earn regular cash flows.
Headquartered in Los Angeles, AssetAvenue is led by commercial real estate industry veterans with a proven track record of raising capital from high net worth and intuitional investors.
AssetAvenue also counts among its advisors some of the most respected minds in the banking, real estate, technology and crowdfunding industries, including Dr. Richard Swart of UC Berkeley, a founding board member of the Crowdfunding Professional Association. Dr. Swart is a world-renowned crowdfunding researcher who recently authored a major white paper for the World Bank on the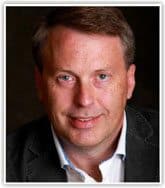 potential impact of crowdfunding.
"Crowdfunding has already proven itself in other industries and verticals, such as fundraising for businesses and loans, because of all the benefits it brings to both sides of the marketplace, the sponsors and the investors," Swart said. "Crowdfunding for real estate breaks down all the traditional barriers to getting involved as an investor and allows sponsors to raise capital more efficiently. Although we are only scratching the surface of what's possible today, I predict that real estate crowdfunding will become mainstream in the United States in the next 12 to 24 months."
Sponsored Links by DQ Promote