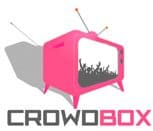 This week on the United Kingdom's crowdfunding programme, CrowdBoxTV, will present a diverse group of projects encompassing technology, art, fashion, science, film and more.
Airing every Sunday at 5pm on Sky, Freeview and Freesat, CrowdBoxTV looks at what's hot in crowdfunding across the globe. Famous entrepreneur and tech business advisor, Stella English, presents some of the latest pitch videos from the crowdfunding world while news anchor, Mel Christidis, highlights the top news from the sector.
Stella English, presenter of CrowdBoxTV, commented on this week's crowdfunding initiatives:
"The diversity of this week's projects makes this week's episode hugely exciting. We'll be featuring everything from innovative GPS technology to a documentary about love, so don't miss out!"
The project highlights from this week's episode include:
• RA Reflective, an innovative new company offering 360 reflective performance clothing, are crowdfunding now through Kickstarter. RA Reflective saw a gap in the market for safe, stylish and affordable reflective clothing and they seized it. The company has a stretch goal of $15,000, which they'll put to use designing new gear, developing new materials, and investing in tools and prototypes.
• Timesulin, crowdfunding through Indiegogo, is a smart device with the potential to save lives. Timesulin is a replacement cap for insulin pens that shows the time since your last injection, which will help diabetics avoid accidental, double or missed doses. The cap was first launched in the UK in 2012; now, the team is striving to meet the demands of the USA's diabetes community with a crowdfunding target of $35,000. These funds will go towards getting vital FCA approval, and making Timesulin more widely available in the US.
• Gon'Feel, an open source data logging system that enhances the GoPro experience with state-of-the-art technology, has a crowdfunding target of $80,000 through Indiegogo. Gon'Feel fetches crucial measurements such as acceleration, altitude, temperature and G-Forces, and allows GoPro users to overlay an On-Screen-Display synchronously onto videos. The team behind Gon'Feel will direct funding into software development and manufacturing to produce the slickest bit of videoing kit on the market.
CrowdBoxTV's news anchor, Mel Christidis, commented on the news from the week:
"This is an incredibly exciting time to be involved in crowdfunding. Across Indiegogo, Kickstarter and Bloom VC in the UK there are hundreds of fresh, innovative projects appearing daily. This industry is growing massively, bringing news as platforms change, regulation kicks in for equity and peer-to-peer platforms, and new initiatives hit the sector. We'll keep you right up to speed with what's going on."
Sponsored Links by DQ Promote