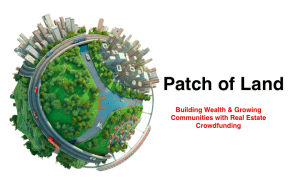 Patch of Land, the online peer-to-peer real estate crowdfunding platform, and Crowdnetic, the leading provider of market data solutions for the global crowdfinance industry, announced today that Patch of Land is the first P2RE peer platform to partner on Lendvious.  The platform is Crowdnetic's new unbiased and comprehensive marketplace for peer finance borrowers and investors.
Lendvious provides the powerful tools and detailed information needed to make informed peer finance decisions. Co-founder and CEO of Patch of Land Carlo Tabibi stated, "Online crowdfinancing is an evolving field with new ways for borrowers and investors to work together with more transparency and less limitation that conventional banking has fostered."

"Patch of Land is committed to transparency and offering the most rewarding and promising deals to investors with the best tools and technology available. We even put our own skin in the game to show how committed and confident we are in our offerings. We're proud to be the first real estate lending platform on Lendvious and are keen to showcase our opportunities there."
Patch of Land offers accredited investors across to a new class of fixed income, cash flowing investments by offering real estate debt in the form of notes secured by first liens and personal guarantees. These investments offer high yields between 10-18% and terms between 30 days and 12 months."
Founder and CEO of Crowdnetic Luan Cox noted, "Our goal is to grow awareness and foster a structure environment for the burgeoning crowdfunding industry. Lendvious is devoted to enhancing and developing the peer-to-peer and peer-to-business ecosystem. We are thrilled to welcome Patch of Land as our first real estate platform alongside Lending Club and Prosper. With peer lending in the real estate market, accredited investors are now able to penetrate an industry that has typically been an elite club."
Peer-to-peer lending allows people to borrow from their peers directly, bypassing traditional financial institutions and intermediaries. This form of peer finance takes place online via different intermediary platforms. The platforms perform the due diligence on borrower's credit worthiness and investors can choose which loans they would like to invest in. In comparison to traditional institutions, these intermediaries typically can provide their services at a lower rate to borrowers and higher rate to investors by savings on overhead costs.