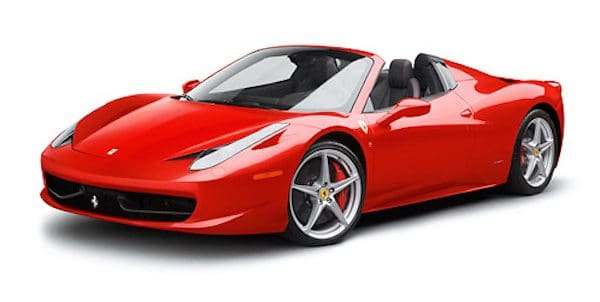 New York-based startup Blancfleet, Inc. announced it has launched a disruptive crowdfunding platform to compete on price, fleet, and

location with Hertz's dream car fleet business. Blanfleet is using the crowdfunding to raise equity to cut car rent rates in half. On Tuesday, the company is currently offering a 2014 Lamborghini Gallardo at $535 per day vs. $1200 per day at lead competitor Hertz. Due to its vehicles not being financed by banks, the company's car rental rates may be cut in half.
Currently, Blancfleet works by selling calendar days for new vehicles, up to 365 days in total. When a campaign to buy a new car is successful, the company's members can reserve the car immediately after it is delivered, on average two weeks. Thereafter, members have up to 36 months to reserve the cars for the days purchased. The company covers the car's maintenance, storage, and handling costs until the last reservation is fulfilled.
As previously reported by Crowdfund Insider, founder of the company Charles Polanco stated, "Blancfleet, a crowdfunding site for sports car fanatics will launch soon in New York City, first quarter of this year. The site will feature the best in form, from Ferrari, Bugatti, Porsche, Lamborghini, Aston Martin, and thus onward.  The concept behind Blancfleet is to make these ultra luxury cars more accessible to everyone."

He continued, "Each share offered on the platform authorizes members to a daily 24 hour rental. Once Blancfleet has successfully raised the capital to buy the car, members can directly reserve the car for rental at no additional cost excluding a payment for car insurance at a flat $100.00 rate due when they pick up the car.  The cars will be available to participating members for up to 48 months. We will also offer to deliver cars to the member's doorstep. Blancfleet will offer members unlimited miles with no security deposit requirements."
The company's luxury fleet includes a Mercedes S550, Tesla Model S, Lamborghini Gallardo, Land Rover Range Rover Sport, Mercedes SLS AMG, Posche 911, and a Nissan GT-R X. The entire line includes unlimited free miles vs. 75 miles per day at Hertz.

Blancfleet recently launched in New York and has plans to expand to other states soon. The company is described to be very agile; members can recommend cars they want featured on the fleet and new locations.

Sponsored Links by DQ Promote