UK based Angels Den recently shared some news for 2014.  Since the beginning of the year the equity crowdfunding platform has successfully raised capital for 15 different companies.  Angels Den is a bit of a hybrid platform where they combine angel investing with a crowdfunding portal.  They have been raising capital for startups since 2007.  Before they offered up online investing, Angels Den held regular speed funding events and business funding clinics (which they continue to offer on a regular basis).  They were quick to see the writing on the wall that crowdfunding was going to become an important part of their business and moved rapidly to create a robust crowdfunding platform.
The fifteen funded business for 2014 include a diverse group of companies:
New Soda – £30,060
Lowdownapp – £121,302
Bagrider – £30,000
Baptie & Company – £230,000
Flavourly – £153,542
Beer52 – £100,000
Bsix Group – £100,000
Holy Cow – £192,000
Source TV – £175,438
Newsflare – £200,000
North Sea Recovery – £165,000
Mallzee – £50,000
Clear Returns £35,000
Open Goaaal – £10,000
Warbler – £147,000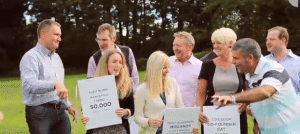 If my math serves me correctly Angels Den has successfully raised £1,920,704 for 2014.  You may contrast this to their total amount raised in
2013,  £3.5 million funding 36 different companies. 
  So if you extrapolate a bit – I believe that Angels Den will experience some decent growth this year.
Angels Den was founded way before online crowdfunding really existed.  Bill Morrow and Lois Cook put it all together determined to "lend a hand to small business" – and they are doing just that.