There is a lot going on in the Maker space these days and crowdfunding has a lot to do with it.  Accelerated market validation and a growing number of services to aid creators in the production process has fueled a creative burst perhaps never seen before.  Kickstarter has always been a constant in this powerful equation and now they have decided to set up their own targeted space for projects that fall under this heading.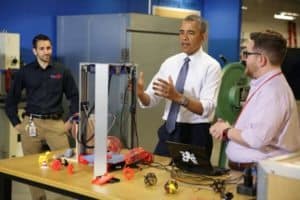 Kickstarter has co-ordinated their announcement by allowing the President to join in the fun.  Today,  June 18th,  the leader of the free world is hosing the first ever White House Maker Faire and team Kickstarter is there.
President Obama declared;
"I am proud to host the first-ever White House Maker Faire. This event celebrates every maker — from students learning STEM skills to entrepreneurs launching new businesses to innovators powering the renaissance in American manufacturing. I am calling on people across the country to join us in sparking creativity and encouraging invention in their communities."
There is even a Presidential Proclamation declaring today the National Day of Making.
Kickstarter was "challenged" to come up with a new way to support makers (not that they aren't already accomplishing quite a bit) and so they now have a new site category devoted to Makerspaces.
So in the spirit of creating incredible things, we're excited to announce a new sub-category devoted to Makerspaces. Kickstarter is a natural place to find support for building a new Makerspace or improving an existing one – you can get feedback from the people who would want to join, and offer membership as a reward. Some great Makerspace projects have already happened on Kickstarter, like the LA Maker Space and MakerKidz in Annapolis, but we know there are more out there.

Plus, some of the coolest projects on Kickstarter have come out of existing Makerspaces, like the Artisan's Asylum in Somerville, Massachusetts. Makers at the Artisan's Asylum created the3Doodler, which raised $2.3 million from 26,457 backers and is now available in the MoMA Design Store, as a tool for other makers to create more new things!

So it is good to see the President of the United States advocating on behalf of those individuals and teams creating the next, really big thing. Kickstarter, along with their competition, has boosted the space with probably hundreds of products that otherwise may have never seen the light of day.

Sponsored Links by DQ Promote