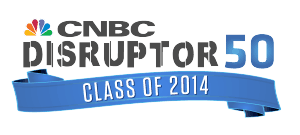 There are plenty of high profile names on the CNBC list of entrepreneurial organizations – more than a few are associated with crowdfunding and alternative forms of finance.
Kickstarter, the global rewards based crowdfunding platform was in the 49th spot.  Kickstarter CEO Yancey Strickler stated;
"Look at the way the investment industry works. Someone gives you money and hopes that they will make money themselves. I think the art world works by different rules. I love the idea of things existing just because people want them to."


Peer to peer platform Lending Club was named to the CNBC Disruptor list for the second year in a row.  They caught the 33rd position.
Besting the P2P company and in 26th place was AngelList – one of the very first equity crowdfunding platform in the US  – a company that has already embraced pushing the envelope as they help finance young companies.
Finally Quirky – a company that takes that really awesome invention you have conceived but never been able to make on your own – and bring it market.  Quirky was number 18 on the list.

If you are interested what organization was named number 1 – it was SpaceX – the company that wants to send people to Mars.  In good time we are sure.

The group of 50 is recognized for innovating the business landscape and pretty much setting out to change the world.  CNBC reviewed 522 different companies before they whittled it down to the final 50.  

Sponsored Links by DQ Promote