Setting out to bring the best and healthiest foods to the online market without being overpriced, FarmDrop has launched a £400,000 equity crowdfunding campaign on Crowdcube to grow its business.
FarmDrop is an award-winning online marketplace that allows local food producers to sell direct; a "click-and-collect farmers' market." By cutting out the middlemen, FarmDrop's producers receive 80% of the retail price and customers can save money.
The online marketplace's mission is to create and grow sustainable local food systems. The FarmDrop's team stated, "We're doing that with an online platform that allows independent farms and food producers to sell direct to their communities in a way that makes it more profitable for them and a better deal for customers. Think of us as the 'Etsy of the food world.'"
They added, "We believe FarmDrop answers an increasing demand for fresher, healthier local food at lower prices. Whilst providing producers with a quantum leap forward in profitability."
Founder of FarmDrop, Ben Pugh, noted, "If you sat down to design the food supply chain on a blank piece of paper today, it wouldn't look anything like what we've currently got."
Here's how FarmDrop works:
Members sign up and shop: People join their local FarmDrop and order online as they would from any other online grocery retailer.
Producers get their final orders: Farmers, fishermen, and bakers get their final orders three days before the drop, which helps them pick, catch and bake their orders.
The FarmDrop 1 – producers bring the produce to the venue: The producers arrive first and put their orders into crates or bags for the customers.
The FarmDrop 2 – members pick up their shop: The Members, who have put in an order, pick up their shopping.
How each FarmDrop starts: Each FarmDrop is started by a community-minded entrepreneur – the website calls hem Keepers. Once their application is successful, they need to find a venue (to host the FarmDrop) and enough Members and Producers to have a successful weekly market. All Producers pass due diligence process before they can start trading on the platform.
Noting the market's exciting achievements, the team wrote, "FarmDrop have 5 FarmDrops trading right now. There are a further 12 FarmDrops under construction and we have now received over 400 more applications to start FarmDrops. Many more will start building soon. More than 300 independent food Producers have signed up to supply FarmDrops in their local areas. We have also built a scalable online platform that can be used in other geographies."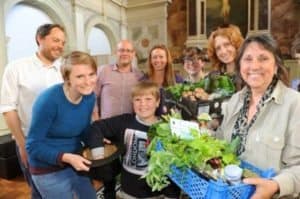 In regards to what the campaign's funds will be used for, the team stated, "Our three year target is 400 FarmDrops trading across the UK by June 2017 and £4m+ of EBITDA in that year. By 2020 our aim is to have 2,000 FarmDrops (one for every town in the UK) and have achieved significant traction in non-domestic markets. FarmDrop seeks to raise equity funding of £400k to pay for further staff, advertising and marketing, technology costs, and operational costs. This will enable us to have 60 FarmDrops trading across the UK and be able to access growth capital at a meaningfully higher valuation.
Since its launch, the campaign has raised over £355,00 from 160 investors.
Have a crowdfunding offering you'd like to share? Submit an offering for consideration using our Submit a Tip form and we may share it on our site!