Women & Minorites Traditionally Shunned by Private Capital Markets See Huge Potential for Investment Crowdfunding and Access to Capital.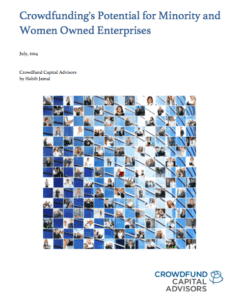 Crowdfund Capital Advisors has published a report to highlight crowdfund investing as a powerful new tool to fuel the underserved women and minority markets.  The document is titled; "Crowdfunding's Potential for Minority and Women Owned Enterprises" The research was authored by Habib Jamal, Sherwood Neiss and Jason Best.
The research document states;
"While discrimination in access to capital will not disappear over night, there is significant anecdotal evidence that broadening the base of contributors able to put capital into projects will likely be able to alleviate some of the negative effects of a number of examples of institutional discrimination"
The report continues to clarify the encouraging information;
"Crowdfunding may offer viable options in equity, debt, royalty, and donation models to breakdown longstanding barriers to capital"
According to Sherwood Neiss, Principal at Crowdfund Capital Advisors and collaborator of the report,
"Crowdfund investing is addressing funding voids in many markets. Since women and minorities have historically been shunned from the private capital markets and now we have tools to allow them to access capital from their peers, we will be seeing many more women and minority businesses receive funding. This report lays out the rationale."
The report's authors highlight 4 cases where crowdfunding has had a positive impact on women and minorites. Jason Best, Principal at Crowdfund Capital Advisors and a collaborator on the report adds,
"When you look at Majority Minority communities around the United States you can already see how donation/perks crowdfunding is having a tremendous impact. It brings in capital to these underserved communities and more importantly, well needed jobs. As we move to investment based crowdfunding, these underserved communites will leap frog other communities that have benefitted from access to capital for decades."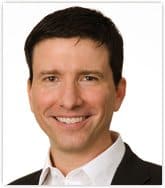 Key highlights from the report include:
Because of the stigma attached to the difficulty in gaining access to traditional funding sources, many women and minorities forgo the traditional capital markets further reducing access to capital within these groups
Data shows that many women and minority-owned businesses tend to be strong market performers, survived the economic crisis better than their counterparts, and were more profitable afterwards
Women owned businesses had sales of over $1.4 Trillion in 2014
41% of businesses are women owned, but only 8% of ventures that are backed by professional investors are founded by women
Data indicates that the venture community and banks have not invested proportionally in women and minorities
Crowdfunding can provide an alternative method of funding minorities and women, while providing investor protections and enabling risk sharing among a community.
Of the fifty highest funded projects on Kickstarter, the premier crowdfunding site, 45 have turned into ongoing entrepreneurial firms . This proves that crowdfunding ideas can lead to promising enterprises.
Crowdfunding is unique because it not only brings money, but also an engaged community of supporters that are both customers and investors
Peer to peer lending data shows that women are receiving more funding then men
Major underserved markets, many of which are turning majority minority, are where very successful crowdfunding campaigns have been based
Promoting crowdfunding as an alternative funding source for women and minorities can create more new business starts, tax revenue, jobs, gender inclusivity and economic equality. All key parts to a healthy economy


Crowdfunding is attracting global interest as a simple but transformative concept. Someone proposes a business, charitable or creative project on a crowdfunding website. If convinced, tens, hundreds or even thousands of individuals commit relatively small amounts of capital to support the idea or business. Taken together, these contributions are significant enough to turn the idea into a commercial reality.
Investing via crowdfunding is potentially the most powerful form of this new innovate approach to finance: instead of donating or lending money, investors receive an equity share in the business.
__________________________
[scribd id=235308665 key=key-lMEiCa3gWTnNTQPdqHAO mode=scroll]