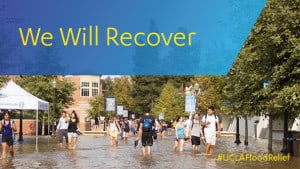 In response toe the massive flooding that hit the UCLA campaign, university officials launched a crowdfunding campaign this morning.  The campaign is hosted on the university's very own UCLA Spark platform.  The goal is to raise $1 million over the next two months.
On July 29th, a 30-foot geyser of water erupted when an antiquated pipe burst on Sunset Boulevard near the entrance to UCLA.  Estimates state that about 20 million gallons of water were released onto the campus.  According to the campaign page, seven structures are being assessed for damage. In the UCLA parking structures (4 & 7), nearly a thousand cars are currently trapped, awaiting recovery.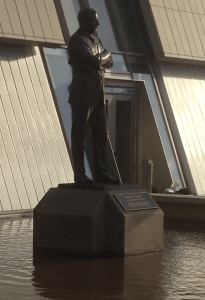 The funds raised via the campaign are expected to assist with;
Supporting our students, faculty, and staff who were affected by the flood
Restoration efforts of flooded buildings and campus landscape
Assisting in the effort to restore Pauley Pavilion
The Chancellor's Emergency Flood Relief Fund has only raised about $2900 as of this writing but the campaign just went live this morning.
Campaign levels range from $10 up to $10,000 – the reward being a very big thanks from UCLA.