Setting out to bring the famous former NYC club, CBGB back to life, New York native David Godlis has launched a crowdfunding campaign on Kickstarter to raise $30,000 so he can publish a limited edition book that is filled with high quality photographs from 1976-1979.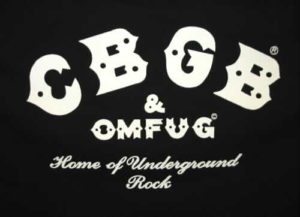 Opened in 1973, CBGB (which stands for country, bluegrass, and blues) became a famed venue of punk rock and featured bands like the Ramones, Television, Patti Smith Group, Joan Jett & the Blackhearts and Talking Heads.  Although famous, in 2000, the club's landlord sued CBGB in 2005 after being accused of not paying rent amounts. CBGB and the landlord made a new deal but unfortunately it failed in 2006, forcing the club to close.
Since then, the club has launched a radio station on the iheartradio platform and created a self-titled festival, which began in 2012. In 2013, the club's residence, 315 Bowery, was added to the National Register of Historic Places.
Sharing his CBGB experience, Godlis wrote, "After finishing photo school in Boston, I came to New York City in 1976 looking for work. One winter night, I stumbled into CBGB's to see the band Television. It wasn't very crowded – in those days you could fit everyone who went to the place in one or two subway cars. But it didn't take a genius to figure out that this was the most interesting thing happening in New York City in 1976. The right people were attracted like flies, the wrong people didn't want anything to do with the dump. Pretty soon I would see the Ramones, Blondie, Patti Smith, Richard Hell, Talking Heads, Suicide, and countless other and bands, where  in the most unlikely of places the slumping New York City's infamous Bowery, a small group of like minded musicians and artists had their sights set on the future."
The book comes in two configurations:
First Edition Book: Hardcover 9" x 9" and 120-140 pages. Limited to 1500 copies.
Deluxe Limited Edition Book: signed and numbered in a slipcase edition of 100 includes 8" x 10" or larger Archival Silver Gelatin photographs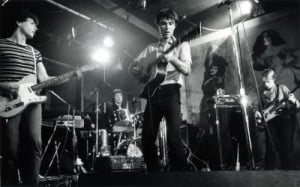 Explaining the books photographs, Godlis noted, "People who were at CBGB's in those days, 1976-79, tell me these pictures look exactly as they remember it. Now it's time for these photographs – this piece of history – to be collected in a high quality, well printed photography book."
"I have an amazing designer and top quality printer, and with your help this book will go into production as soon as I meet my goal.  I will keep all contributors updated and on top of the project as things progress, with photos and updates. We'll even be having a contest to settle on a final book title,that can win you a free copy. You'll be along for the ride, and have the final product in your hands by the end of the year holidays."
"Additionally, I'm thrilled that Jim Jarmusch – director of the classic "Stranger Than Paradise"  and current "Only Lovers Left Alive" – who btw hung out at CBGB's – has agreed to do the intro for the book. We'll also be getting some other "regulars" involved in the project."
Since its debut on Thursday (August 21), Godlis' crowdfunding campaign has raised $9,157 from 77 backers. Its set to close on October 1st.
Have a crowdfunding offering you'd like to share? Submit an offering for consideration using our Submit a Tip form and we may share it on our site!