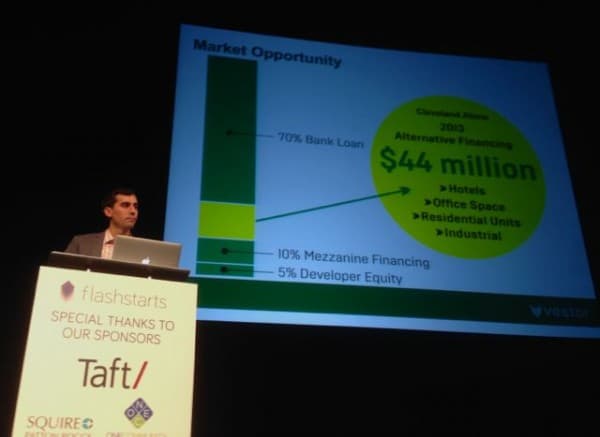 Cleveland, Ohio-based Vestor is a crowdfunding platform aiming to help real estate developers close the gap in their projects, while give investor access to compelling real estate projects.  Vestor, incubated at noted Cleveland based accelerator Flashstarts,  launched their site with the opportunity to invest in the forthcoming "shovel ready" Le Meridien Hotel located in downtown Cleveland.  The project has an investment goal of raising $7 million promoting 350 units at $20,000 per unit.  The estimated annual return is a healthy 14% – for accredited investors only.  Vestor is launching with a high profile project but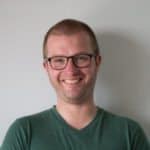 they great opportunity in the Midwest – a region that has been somewhat underserved by the real estate crowdfunding explosion.
According to the Vestor site, by using crowdfunding they want to create a space where the crowd can power real estate development while allowing accredited investors the opportunity to change how their money is put to work.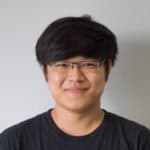 Vestor was founded by Matthew Moss, Scott Schirg and Jeff Chen.  CEO Moss has prior experience  in Urban Planning having worked for the City of Cleveland.  While at the city he observed the difficulties developers encountered in financing their projects.  He decided to find a way to help developers by allowing local residents to help fund the development of their own community.
Crowdfund Insider caught up with co-founder and CEO Matthew Moss recently to discuss this new platform, its LeMeridien Hotel venture, and other topics about the crowdfunding industry.
___________
CF: How did you decide to get into the real estate crowdfunding space?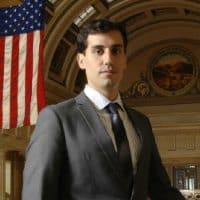 Moss: Myself and Scott, our second co-founder, recognized the difficulty some developers were having in financing their real estate projects here in Cleveland, in the region, and across the Midwest as we completed our Master degrees in Urban Planning, Design, and Development at Cleveland State University. As students and developing practitioners in the real estate space, we struggled ourselves with projects we recognized as opportunities in an academic setting and projects we explored for real estate development as a future career path for ourselves. It hit a critical point when we were tasked with an academic exercise to plan, design, and propose a development plan for a section of our City. We thought it would be great if people in the neighborhoods surrounding our plan could contribute capital to a project that otherwise may struggle to get off the ground. After doing some research we drafted a business model, applied to an accelerator, and found ourselves with a plethora of real estate projects that are seeking alternative sources of financing.
Crowdfund Insider: Will you be offering debt or equity or both on your real estate platform?
Moss: Right now we plan to offer equity investments to accredited investors, but we are exploring debt investments as well. As we gauge the interest from investors, both local and national, in projects in the Cleveland area we plan to adjust the type and amount of offerings we commit to posting on our platform.
Crowdfund Insider: For your investment offers will you be using 506(c) offers or 506(b)?  What are your thoughts on Title IV "Reg A+"?  
Moss: Right now we plan to stick to 506(c) offerings, as they are the most flexible for a growing platform like ours. Many of the projects we have in our pipeline appear to be best suited for 506(c). We do see the potential for Title 3 and Reg A+ to benefit smaller community projects while opening up real estate to what crowdfunding is in perhaps the truest sense of the term.
Crowdfund Insider: What are your thoughts on retail crowdfunding?  Do you see an opportunity for non accredited investors to participate in Real Estate?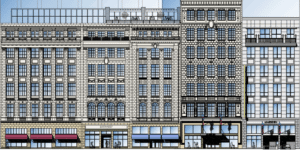 Moss: We have had conversations with community leaders and community development corporations here in Cleveland in which we have discussed our mutual interest in exploring the potential opportunities for real estate and neighborhood development provided by Title 3 and Title 4 – or Reg A+. While we are keeping our eyes on the SEC and the rules as they develop, we are concerned about the responsibilities entailed by the proposed rules. For real estate, money can be expensive in two ways – some financing sources can cost a developer a great deal in fees to obtain them, such as tax credits. Other sources, such as public financing, save a great deal of money while costing a developer a great deal of time. General solicitation enables a form of financing that, when compared to others, is relatively cheap when operating at the right scale. As the rules develop we are keeping a close eye on how much the reporting, auditing, and investor verification will cost in terms of dollars but also in terms of the time commitment required to succeed.
Crowdfund Insider: How are you structuring the offers on Vestor.  Are you just making a market between developer and investor?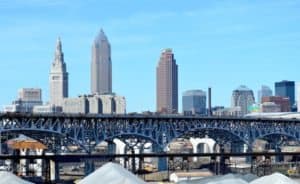 Moss: Currently, Vestor sets up equity funds to invest in real estate. Each project has a specific fund that seeks to raise money and either invest equity or enter into a loan agreement with the real estate developer or sponsor. Our platform lists each project and manages a fund for each real estate development. Thus, each fund offers its own securities to investors. We plan to create a funding portal for Reg A+ offerings in the future.
Crowdfund Insider: Do you want to expand your model into other markets?  Or do you expect to focus on North East Ohio market only?
Moss: Most of our projects that are ready for investment are in Cleveland or the greater Cleveland area. However, recently a developer that would like to conduct several projects in the greater Chicago area has approached us as a partner for investment. While that is a fairly new opportunity that we are still reviewing we do plan to expand our scope to encompass the Midwest in the near future.
Crowdfund Insider:  Besides Chicago – what other markets are you looking at now?

Moss: We have talked about seeking out developers and projects in areas such as Columbus, Cincinnati, and Pittsburgh. As I mentioned we do have potential projects in northeastern Illinois. While we are constantly growing our network of developers, sponsors, and partners, we do see opportunity in several historic properties that are common in many of these cities.
Crowdfund Insider: How did the LeMeridien Hotel deal come about?  How has investor interest been evolving?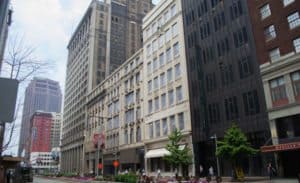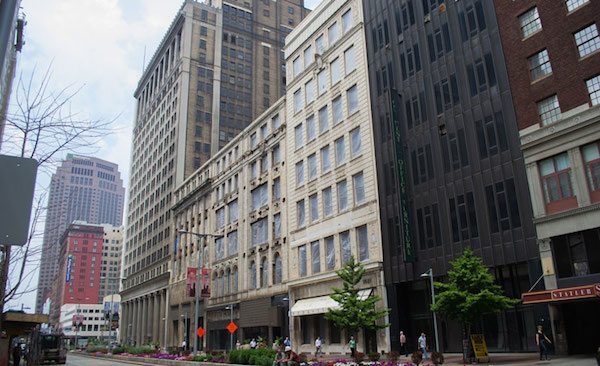 Moss: The Meridien project was a result of working within our existing network of developers and project sponsors. We were previously connected with the developer and saw an opportunity to crowdfund when their New Market Tax Credits allocation failed to come through. We see a real opportunity to help developers fill gaps caused when tax credits fall through or if they fail to be renewed by Congress. So far the investor interest has been encouraging. We are happy to see investors from outside of the Cleveland region express interest in real estate crowdfunding projects. 

Crowdfund Insider: How are you marketing your offers to investors?

Moss: We have had a good deal of success in attracting investors with press regarding the Meridien. Perhaps our most fruitful marketing efforts have resulted from engaging investor networks and wealth managers. Many are still as of yet unaware of the JOBS Act and Titles 2-4. Since we launched back in May we have learned that education is crucial to building an investor base that is sophisticated enough to invest wisely on an online real estate platform such as Vestor.

Crowdfund Insider: Do you have other offers in the pipeline?

Moss: We have approximately 8 projects at this time that we are looking to bring onto our platform. The first one is the Forest City Brewery Debt Offering – an investment opportunity that we are still vetting but right now we have it up as a potential offering as we gauge investor interest. The terms are subject to change as we prepare for a live offering, however we anticipate it maturing to a real project very soon. You can check it out here.


Sponsored Links by DQ Promote