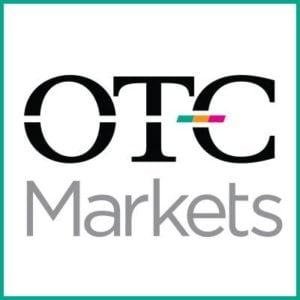 OTC Markets Group, a publicly listed exchange and technology platform, has announced they are in the process of launching a public venture market for small companies.  This new exchange will also target companies that go public under the different JOBS Act exemptions.  Signed into law in 2012, the JOBS Act legalized various forms of investment crowdfunding including Title II, Title III (retail crowdfunding) and Title IV (Reg A+).  The goal is to transform OTCQB into the US public venture market similar in structure to AIM in the UK and Canada's TSX Venture Exchange.  OTC Markets wants to address a challenging issue regarding liquidity for purchased shares in these small companies.
Cromwell Coulson, President and CEO of OTC Markets Group said of the new initiative;
"We are excited about the tremendous positive feedback we have received from companies and investors about the improvements to our OTCQB marketplace," said Cromwell. "With these changes, we are building a true American venture market to help support entrepreneurial companies as they build their businesses, access public capital markets and increase visibility with investors worldwide."
OTC Markets announced last week it had approved 100 US and International companies to trade on OCTCQB venture marketplace.  These smaller entrepreneurial and early stage companies have met new standards provided by OTC.

To be eligible, companies must be current in their reporting to a U.S. or foreign regulator, pass a minimum bid price test of one penny ($0.01) and undergo an annual verification and management certification process providing additional information about the company's insiders, advisors and share count.  Companies that are approved to trade on OTCQB may receive additional premium services to help them build visibility and improve transparency for investors including the OTC Disclosure & News Service and free real-time Level 2 quotes.  OTCQB companies that do not meet these requirements are downgraded to the OTC Pink open marketplace where they can trade at no cost, with simplified rules while they refinance, reactivate or reinvent their businesses.
Cromwell explained his vision going forward;
"As companies raise capital and go public under the JOBS Act, we anticipate they will use OTCQB as a stepping stone to OTCQX, our best marketplace, as well as to NASDAQ and the New York Stock Exchange.  OTCQB offers an efficient entry into the public markets for entrepreneurial companies that are committed to creating value for their shareholders."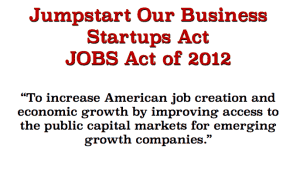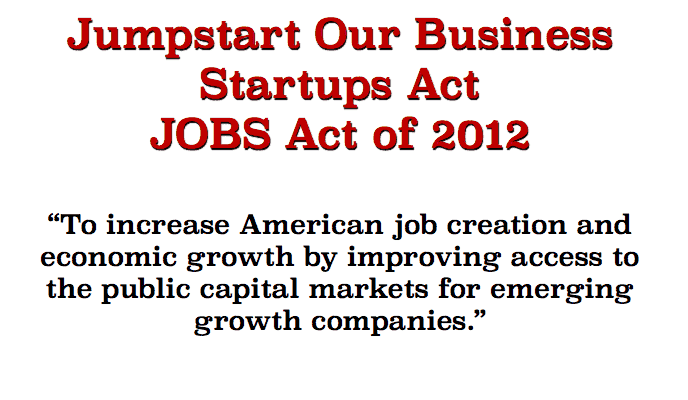 The JOBSAct and the various crowdfunding exemptions did not address the challenge of secondary markets.  The ability to trade shares is a crucial aspect for equity crowdfunding to work effectively.  Shares in companies that can be easily sold & purchased may be valued higher, simultaneously shareholders will not demand as much control as they have a path to an exit.  In the UK the first publicly traded company launched an equity crowdfunding campaign depicting the blurring line between public and private securities.

Sponsored Links by DQ Promote