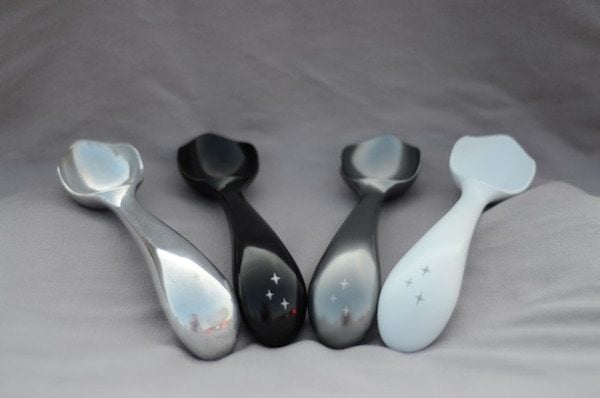 Ice cream lovers, rejoice! A Michigan resident by the name of Michael Chou has launched a Kickstarter crowdfunding campaign for the the Midnight Scoop. The new ice cream appliance is dubbed the "easiest way to scoop hard ice cream." Originally seeking only $17,500, the project has raised nearly $67,000 all thanks to over 1,250 backers.

According to the campaign's website, by using the Midnight Scoop properly, the user is not only avoiding the small weak muscles in the wrist and they are holding it in the curve with the palm of their hand and "pushing" into the ice cream. This keeps the wrists straight and protected.
The Midnight Scoop's features are the following:
Hot-forged from solid 6061 aluminum
Multiple industrial-strength coatings
Ergonomic design
Laser engraved logo
Patent pending
Explaining the handle's design, Chou shared, "The handle is long enough to help you reach all parts of a giant container of ice cream yet narrow enough to fit inside small pint size containers just as well. The Midnight Scoop works exceptionally well with hard-frozen ice cream. No more waiting to thaw – no more bending spoons – and no more hurting yourself."
Also describing the scoop portion, Chou noted, "The front scoop section is thin enough to cut through ice cream like butter, and thick enough to last. The base of the scoop design forces ice cream to curl into that appealing ice-cream-advertisement look, every time."
During a recent interview with DailyMail, Chou, an aerospace engineer and father of two, stated, "Every time I scooped ice cream, I couldn't help but feel there was a better way. I like my ice cream frozen and hard – melting it with a hot spoon or letting it sit out for half an hour ruins it."
Chou revealed that it took nearly two years for the Midnight Scoop to be created and revealed, "It's called the Midnight Scoop because I spent so many late nights drafting and designing on the drawing board. I designed the scoop to rely on something that never runs out – mechanical force supplied by the arm and chest. My background in aerospace engineering has made me familiar with mechanical forces. But more importantly I am a father, and that has made me familiar with ice cream! I decided I needed to come up with a simple way to scoop hard ice cream without melting it, and without creating some overly-complex product that would break eventually."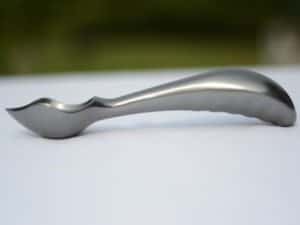 In regards to backer rewards, Chou added, "The early adopter specials have the best prices – and limited quantities. We have complete packages (all four colors) available in both early adopter special and standard Kickstarter pricing. No one will ever get a Midnight Scoop for the price we are offering right now! Once our backers have all had their Midnight Scoops delivered, we will open our e-commerce store, selling each scoop for $50. We have plans for expanding our product line, but right now the Midnight Scoop is the one and only thing on our radar."
The Midnight Scoop campaign is set to close on October 2nd.
Have a crowdfunding offering you'd like to share? Submit an offering for consideration using our Submit a Tip form and we may share it on our site!