Well known investor and former Pimco executive Mohamed El-Erian has joined the board of Payoff after investing in the "next generation financial services company".  El-Erian was an important part of Pimco – the largest bond manager in the world – until recently when he departed suddenly from the corporation.  A frequent spokesperson on CNBC with  a reputation for honesty and common sense, El-Erian's investment in Payoff is another indicator of the growing shift in the financial landscape.
Payoff was launched by Scott Saunders to "restore humanity" to financial services.   The P2P platform is targeting one of the largest segments of the peer lending industry – debt consolidation.  Specifically credit card debt, Payoff seeks to assist debt holders in managing debt reduction while allowing investors to benefit – meanwhile cutting out the credit card companies.  Many credit card companies are criticized for their very high, at times usurious, interest rates they apply to customers.  This market inefficiency has created a profound opportunity for new platforms to fill this gap powered by the efficiencies of the internet.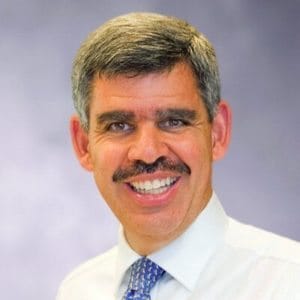 El-Erian was quoted in CNBC saying;
"Scott has assembled an incredible team devoted to understanding better why people get themselves into debilitating debt and thus how to help them regain financial viability more quickly.  That includes those over exposed to credit cards at rates of over 20 per cent. It doesn't take a financial engineer to tell you that their debt dynamics are stressful, undermining their ability to live fulfilling lives."
Payoff's current focus is to aid people in the elimination of an estimated $1 trillion in credit card debt.  Payoff claims that more than $70 million has been paid off in credit card debt via their platform today.  The company was launched in 2011.