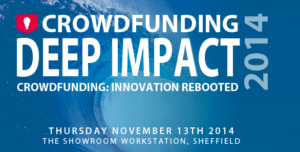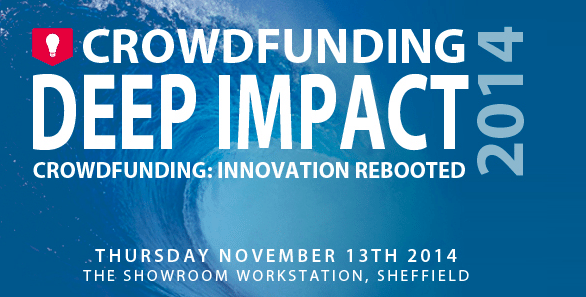 A radical re-think of crowdfunding regulation has been called for by thought leaders from finance and the stock markets, social media, crowdfunding and the law after an endorsement by Deputy Prime Minister, Nick Clegg, placed him in potential legal jeopardy. The Crowdfunding Centre Founder Barry James spoke at the third 
Crowdfunding: Deep Impact Conference
 in Sheffield, along with experts including Simon Brickles, the former head of AIM (the Alternative Investment Market, the London Stock Exchange's international market for smaller growing companies) and commented:
"Something is wrong when support from the Deputy Prime Minister cannot be distinguished from an illegal financial promotion by our regulator; because if his endorsement was used as intended, to support an equity crowdfund for our Venture Funding Hubs, this would break the rules under the current approach. We are stuck in a mould made before the advent of the internet yet we now rely on a global economy that is internet and digitally dependent – so we are increasingly hobbled by outdated ideas and regulation that is broken."
Rules have become so arcane and complicated that as they seek to encompass social media they risk wildy unintended consequences, according to James, explaining that the Financial Conduct Authority's (FCA's) current approach is so unclear that it could classify Deputy Prime Minister Nick Clegg's endorsement of Venture Funding Hubs, below, as an illegal financial promotion – putting him at risk of two years in jail. The Crowdfunding Centre is using the conference, and UK Crowdfunding week, to launch the first of a UK-wide series of Venture Funding Hubs which will support the formation and growth of ventures across the UK.
Commenting on the Venture Funding Hubs, Deputy Prime Minister Nick Clegg MP, said: "I've made clear my own ambition to double the number of tech jobs in the North to help create a stronger economy. To make this happen access to finance is critical, so that we can see start-ups and growth within existing tech businesses. Therefore I'm delighted that the first Venture Funding Hub is being created here in Sheffield as part of an initiative that will span our great northern cities. It will complement the TechNorth initiative I have previously announced and it can play a part in growing a world-class tech cluster. The fact that this was conceived and is led by The Crowdfunding Centre, right here in Sheffield in the heart of TechNorth territory, is particularly welcome. I would urge investors, big or small, to back this great initiative when the crowdfund goes live. Not only will there be great investment opportunities, but it will be a chance to help our local tech talent create a Northern Tech Hub to rival Berlin, New York, or Shanghai."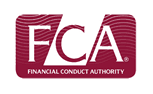 Additional conference speakers including Simon Brickles, the former head of AIM (the Alternative Investment Market, the London Stock Exchange's international market for smaller growing companies) have called for a radical rethink from the FCA about the "destructive effects of the current regulation of social media." The UK's Financial Regulator, The Financial Conduct Authority (FCA), has been consulting about "financial promotions in social media" – but according to James, Brickles and many involved in crowdfunding, their intentions are unclear and could even put individuals who tweet that they have invested in a crowdfunded project at risk of a jail sentence of up to two years. The FCA's consultation was set to close on 6 November, but this was extended so that the issues could be debated at the third annual, national and international, Deep Impact Conference, in Sheffield, UK, today.
Venture Funding Hubs across the UK

According to Crowdfunding Centre, "The conference included an announcement about a UK-Wide initiative to create new Venture Funding Hubs for every town and city across the UK, starting with the UK's great northern cities. They will


provide a new focus and new skills for the 21st century, enabling venture and job creation on a new scale. Each VentureFundingHub will provide free expert advice and signposting to funding and associated services to entrepreneurs and social entrepreneurs.  The first cities to gain Venture Funding Hubs  include Sheffield, Manchester, Liverpool, Leeds, Newcastle, Edinburgh and Glasgow. The Sheffield Hub will launch on 15 January 2015 at a University of Sheffield event, followed by the roll-out of the other hubs.
Barry James, founder of The Crowdfunding Centre and curator of the Deep Impact Conference, added: "Crowdfunding has proved itself transformative providing a better way to get businesses started and growing, creating new livelihoods. This provides a crucially important new economic model that delivers new jobs. It fixes the biggest of market failures: Failure to find a workable way to provide seed funding and support venture creation. This is crucial in a world where, as Forbes has documented, the engine of job creation is now venture creation – ie startups in their first three years. Now that the economy is inescapably global and network-dependent, re-regulation and a radical re-think are essential to address the questions: What is the economy for? And, to whom does it belong? How should it be measured and managed?Today as we announce a UK-Wide initiative to create new Venture Funding Hubs for every town and city across the UK – starting with the UK's great northern cities, this is put at risk by the Financial Conduct Authority's inability to distinguish paid adverts, ie financial promotions, from information and signposting, opinions and endorsements. Were we to use the Deputy Prime Minister's full quote during a live crowdfund this would be at high risk of being misclassified as a commercially motivated financial promotion under the current FCA regime."
Lastly, Tim Wright, director and co-founder of digital age consultancy twintangibles and another participant at Deep Impact, concluded, "It seems that, once again, the abacus wielding Luddites of the FCA quango are seeking to defend the narrow interests of an indefensible financial clique and not those of the people."

Sponsored Links by DQ Promote