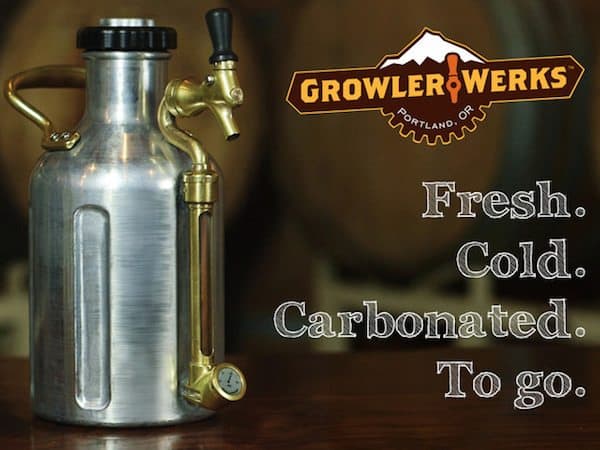 Employees of the Portland-based startup, GrowlerWerks, raised their pint glasses on Thanksgiving to celebrate the $1 million mark in their crowdfunding campaign on global platform, Kickstarter. The milestone was hit on Friday (November 28th) and the project is currently at $1,017,880 thanks to 6,942 backers.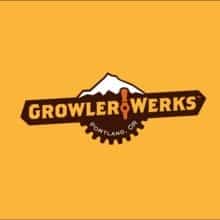 GrowlerWerks had an original goal of $75,000 to bring beer enthusiasts the uKeg, a growler that keeps craft beer fresh and carbonated. It reached that goal, which seemed ambitious at the time, within 34 hours. Since the campaign began in October, the company's team has been watching the computer screen with gratitude daily, offering numerous rewards and upgrades to backers along the way.
First, it was the first-ever 128-ounce growler, then came laser engraving and copper plating. The uKegs will arrive this spring. A pick-up party is being planned for locals, and uKegs will travel across the states and overseas to backers as far away as the United Kingdom, Canada, Australia and Southeast Asia. The growler clearly speaks the international language of love.
Sharing his thoughts about the company's crowdfunding success, founder of GrowlerWerks, Shawn Huff stated, "It's amazing. We're all sitting here with our laptops open to the site and occasionally we have to tell each other, 'C'mon, we've got work to do.'"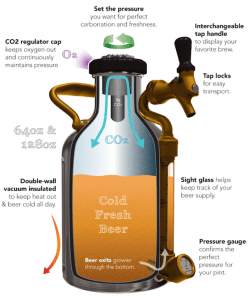 Last Thursday (November 20th), John Foyston of The Oregonian wrote, The work they've done so far in designing and arranging production of the elegant, stainless-steel-and-brass uKeg has hit a resonant chord with beer drinkers."
The four engineers in Portland who created the pressurized, insulated uKeg, are thrilled to have cracked the code and solved the growler problem of flat beer. Huff shared, "We put a lot of hard work into the design, and it's gratifying to see it so eagerly received."
Huff also noted that the engineers and team are excited this growler will allow craft brewers' liquid gold to be served as they intended it more often. He added, "Brewers today craft beer too good to drain pour."
Set to close its crowdfunding campaign on December 8th, GrowlerWerks is working closely with its manufacturing partner who is excited about the increasing volume. The game-changing growler can even benefit shoppers during this holiday shopping craze: The uKeg, available at your fingertips, starts at $99 and makes a unique and desirable gift. Ties, picture frames and gift certificates go flat in comparison.
GrowlerWerks looks forward to a strong, clean finish.
Have a crowdfunding offering you'd like to share? Submit an offering for consideration using our Submit a Tip form and we may share it on our site!