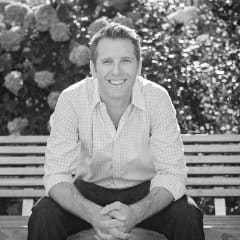 Based in NYC,  Ingress Capital believes "you shouldn't have to be a Silicon Valley insider to invest in the growth companies of tomorrow." With its team's combination of diverse operating experience including  startup founder, executives, and securities professionals, Ingress networks within the Consumer Technology, Media & Entertainment, and Consumer Products industries aiming to link investors with high-quality Series A investment opportunities.  Touting its curated investment opportunities in promising early-stage companies and no costs (including transaction fees, management fees, or carries interest) as well as its investor-friendly platform which offers direct access to company founders and CEOs, and multimedia, Ingress seeks to enable investors to benefit from the wisdom and connection of the crowd and industry experts.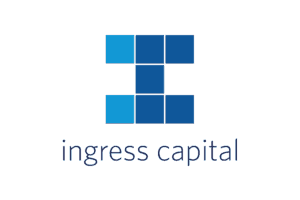 Darren MacDonald founded Ingress Capital to make it easier for early-stage companies to connect with value-added investors. Prior to founding Ingress, the UC Berkley grad and UCLA MBA was Chief Executive Officer of the Pronto Network (an IAC portfolio company). As CEO, Darren grew Pronto's consumer shopping marketplaces to over 20 million monthly users across five markets in the US, Europe, and Asia, and record profitability. Prior to Pronto, MacDonald held senior operating roles at Avery Dennison, and the Sequoia-backed technology company EMN8. MacDonald is also a founding Board Member of Venture for America, a non-profit whose mission is to revitalize American cities and communities through entrepreneurship.
I recently enjoyed the opportunity to connect with MacDonald via email.  Our interview follows:
Erin: What experiences led you to found Ingress Capital with the aim of connecting early-stage companies with value-added investors?
Darren: Three things led to me founding Ingress Capital.  The first and second are probably shared with a number of entrepreneurs in our space: Kickstarter and the passing of the JOBS Act.  The third thing is a little more nuanced in that I've been both successful and unsuccessful in raising capital in my life (and in that order). Since I'd successfully helped raise tens of millions in capital from top-tier VCs like Sequoia Capital and Disney's Venture arm, Steamboat Capital, and then failed to raise sufficient capital for another startup, I stopped trying to understand what happened.  Without going into detail about the idea, the post-mortem was that the investors I needed were well outside my network.  It wasn't that I had a bad idea, team or plan, I just didn't know the right value-added investors who could help me pull it off.  How do I know?  There have been a handful of successful companies in the space that have raised tens of millions for adjacent ideas.  The learning was that there is an inherent matching problem between companies and value-add investors.  In fact, depending on your definition of a value-added investor, the two can be classified as grossly inefficient at finding one another.
Erin: What did you learn from your experiences as the Chief Executive Officer of the Pronto and senior operating roles at Avery Dennison that has shaped your business MO? 
 Darren: My experience running businesses at IAC and Avery Dennison gave me a certain feel for handling consumers.  Additionally, in both cases, I learned how to build successful marketplaces on the web.  It was for just these reasons that Ingress takes special care to talk to potential investors like human beings.  We provide a ton of materials that an investor needs in order to make an informed investment decision, but the key is to present things in a way that allows an investor to understand a business.  We think we've got a great grasp on this and we're only going to get better as we grow Ingress Capital.
Erin: As a founding Board Member of Venture for America the non-profit whose mission is to revitalize American cities and communities through entrepreneurship, please describe some past and current projects.
Darren: The goal of Venture for America closely resembles that of Ingress Capital.  Both organizations want smart people to build things.  Andrew Yang, the founder of Venture for America, wrote a book with that exact title. We're trying to help similar smart people find investors who can support their ideas.  If both investors and companies are successful in building business, we'll also create a lot of jobs along the way.  Every last one of us should cherish those who are willing to take smart risks and work really hard to build something new.  These people are quite literally the future of our country.
Erin: Please describe your team's synergy, leadership structure and its relationship with Ingress Capital's Advisors, including Mark Lore, Philip Reicherz, Jason Best, Cameron Breitner and Catherine Sadler.
Darren: I'm extremely proud of the team we've assembled.  We have a number of people who have worked in traditional finance on both the buy and sell side.  I also have a number of people with whom I've built one of the largest marketplaces on the web.  The third hire for the business was an amazing securities attorney who was a coup for the organization.  We've hired so strongly that our team can accomplish monumental tasks without a ton of management overhead.

Our Advisors are a major asset to our organization and we lean heavily on them for guidance.  Marc Lore is one of the best entrepreneurs and smartest guys you'll meet – he's incredible.  Phil Reicherz is equally successful in his own right and as the first hire at Second Market he's already walked a mile in similar shoes.  As many people know, Jason Best helped author one of the landmark pieces of bipartisan legislation in the last 20 years.  He's also driving change in countries across the world and provides excellent strategic guidance on our business.  Cameron Breitner is an enormously successful private equity professional and having completed billions of dollars in transactions he's been immeasurably helpful in the tactical areas of our business.  Our most recent addition of Catherine Sadler has perhaps been of greatest value.  She's literally one of the best brand marketers on the planet.
Erin: Please highlight the three early-stage companies campaigns currently fundraising on Ingress Capital.
Darren: We're currently raising money for a subscription box company named Pijon.  Pijon delivers care packages (PijonBoxes) primarily to college students.  Each box has been carefully curated with healthy snacks, wellness products, confections and other goodies.  They've shipped over 23,000 boxes to college students in just over a year.  The metrics on the business are very exciting.

We're also raising money for a very unique e-commerce business named Brideside.  Brideside removes a ton of the stress around buying a bridesmaid dress by shipping dresses directly to each bridesmaid.  On top of that, every bridal party has it's own stylist that helps them find the perfect dress.  It's a pretty revolutionary business model that we're very excited about.

The third company is a health and wellness business that's privately raising capital, meaning that the company is not marketing the offering publicly and it can only be looked at by accredited investors with whom a pre-existing relationship exists (a 506b offering).  This company has an extremely impressive founding team that has already raised capital from a number of name brand venture capital firms including Khosla Ventures.  Interested accredited investors can go to Ingresscapital.com to learn more.
Erin: What steps to do take to "create great content" for the startups to grow their businesses?  How did Ingress Capital come to partner with BBDO? 
Darren: Some of the folks at BBDO found out about what we were working on and said they would love to help.  These are some of the very best creative professionals in the business.  They help companies explain what they do in very simple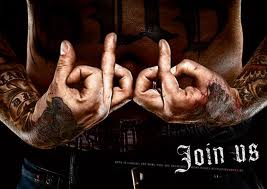 terms while conveying the uniqueness of each business.  They use video, which has really become the language of the web, to describe things that aren't easily put into words.  Complex business processes, the essence of brands, experience of a product and the humanity of the founders are things that just can't easily be explained in words.  They need to be seen, heard and experienced.
We spend tens of thousands of dollars out of our own pocket to create this content.  We believe it's important and also shows that we believe in the companies we put on our site.
Erin: As an entrepreneur, please share what you look for in a startup.   Which startups have you targeted for investment?
Darren: We've looked at hundreds of investment opportunities and have been extremely selective in the choices we've made.  We look for proof points in companies that can scale.  We don't take early stage companies on our site that don't have traction.  We're looking for companies that have already proven their hypothesis and are looking for capital to grow.  That means that we primarily target a slightly later stage company than most of our competitors.  We also want smart and hungry entrepreneurs who desperately want to win.  We believe that entrepreneurs have to have some fight in them.  We need to see their vision and their ability to execute that vision in an economically viable fashion.  Ultimately however, the investors on our site will decide what gets funded.

Erin: Describe how marketing expertise sets Ingress Capital set itself apart from from the sea of competing equity crowdfunding platforms? What sort of direct access to company founders and CEOs and immersive multimedia views into their companies do you offer investors?
Darren: Investors in private companies typically do not have the same access to information that they might if they were investing in public equities.  That impedes companies' ability to draw investment dollars and when the ideas are new to the market that only compounds investors' lack of understanding.  With extremely high quality video content we can better engage investors in the business and then provide them the relevant information that will allow them to make an informed investment decision.  Like any early stage investment opportunity, these are risky investments and investors should be sure to do a thorough job investigating each deal they see on our site before making an investment decision.
Erin: With "no costs, including transaction fees, management fees, or carries interest," how will Ingress Capital sustain profits? 
Darren: Investors will not pay any carry and that's a philosophy I've had from the start.  We have a number of ways we think we will make money but those will take time.  In the meantime, we're going to focus on providing investors with the most exciting companies we can find, and companies with what we believe is the most compelling value proposition in the space.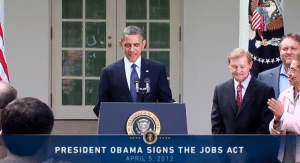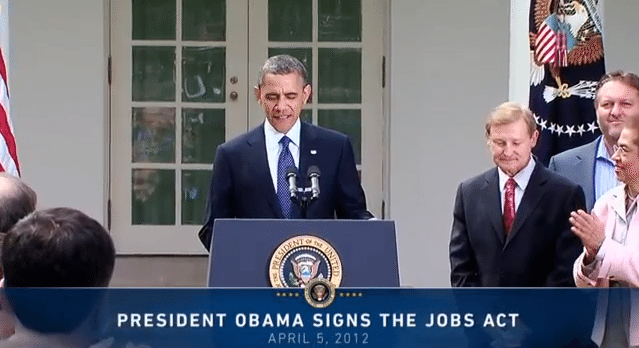 Erin: What is Ingress Capital's view on the Jobs Act, I, II, III & IV? Pending rules?
Darren: We're obviously very excited about the JOBS Act and are eager to see the proposed rules formalized.  It's important that they are done right, and if that means that they're further delayed, then so be it.  We'd rather see well-crafted rules with proper exemptions and relief from state securities laws in Title IV and workable Title III than rules that are doomed from the start.
One of the most important things facing early stage financing is the potential change to the Accredited Investor definition.  An inflationary reset to the income- and asset-based accreditation tests would literally be catastrophic for small business capital formation and set the country back decades.  I think it's somewhat unlikely to be a full reset and remain optimistic that regulators will enact changes to support well-informed investors intelligently deploying capital into companies.
Erin: What's next for Ingress Capital: Where do you see Ingress Capital in the next year? In three years? Ten years?
Darren: We are razor focused on helping investors discover and invest in great companies.  We want to help those companies tell their story to the right audience in the right way.  We'll be doing that for more and more investors and companies over the coming years and hopefully a whole lot more.
___________________________________________________________________

Sponsored Links by DQ Promote