This morning (December 10th), Detroit-based startup Hemingwrite debuted its crowdfunding campaign on Kickstarter to raise $250,000 for its self-titled distraction free digital typewriter.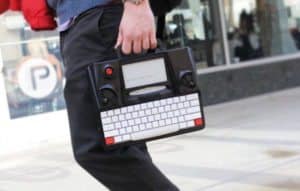 According to its description, the distraction-free writing tool combines the simplicity of a typewriter with cloud documents, e-paper display, and full-sized mechanical keyboard. Features of the Hemingwrite include:
Instant On: The typewriter is on in a flash and instantly ready to go. You don't have to worry about writing software or close distracting apps.
Folder Navigation: Work on three active documents at one time. Folders are chosen quickly and easily using the left selector knob.
Page Up, Page Down: Review your previous work easily with dedication page up and page down buttons. The status screen shows you exactly where you are in the documents.
Status Bars: A choice os status bars can be cycled through with a dedicated keyboard key to provide you with additional feedback about your work. Show your word and character count or start up a basic timer.
Quick WiFi for cloud documents: Connecting to a new wifi network is very simple. The right selector knob has three positions to control the wifi radio.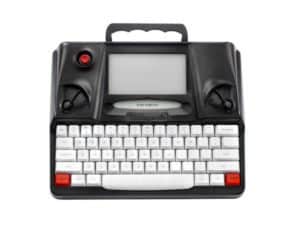 Explaining the purpose of the typewriter, the Hemingwrite team shared, "Laptops and iPads are multi-purpose devices loaded with games, social media, work email, funny cat videos, and those birthday photos you still need to edit. Like many of you, when we tried to get down to writing, we quickly found ourselves down a YouTube rabbit hole, which we rationalized to ourselves as research. Sound familiar? Don't worry you're not alone!"
"As our computers and phones get more powerful, we become less production. This is why we built the Hemingwrite, a single-function alternative. The Hemingwrite combines the best features of all previous writing tools with the addition of modern technology. It is dedicated like a typewriter, has a better keyboard and battery life than your computer and is distraction free like a word processor. Finally, we sync your documents to the cloud in real-time so you never have to worry about saving, syncing or backing up your work."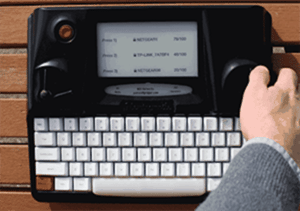 In regards to how your print documents, the Hemingwrite will include a dedicated Send key right on the keyboard. This will allow your print jobs to be emailed to you as a PDF attachment and will be queued for printing in your account on Postbox. After a one-time setup, your printer will be linked to the Postbox account to receive print jobs.
Set to close on January 23rd, the Hemingwrite has already raised $112,526 from 312 backers. Those who purchase the typewriter through the campaign will receive it in September 2015.
____________________________________________________
Have a crowdfunding offering you'd like to share? Submit an offering for consideration using our Submit a Tip form and we may share it on our site!