A 60-day Kickstarter campaign from October 15th to December 7th resulted in 10,293 backers pledging more than $1.5 million dollars so GrowlerWerks could bring the uKeg to life.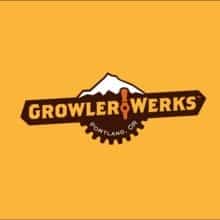 The little growler that could, made by four Portland, Ore., engineers, became the second most-funded project in Kickstarter's food category and the second most-funded Portland project behind the Coolest Cooler. That's cool. What's better, though, is that the uKeg now has a shot at making craft beer more often the beer of choice.
Co-founder of GrowlerWerks, Shawn Huff stated,"The craft beer world is growing fast and we're solving the pain point. Every beer lover wants to take their beer home and enjoy it over time." GrowlerWerks' crowdfunding campaign validated that."
The engineers were all-too familiar with drainpouring their favorite beers after they had gone flat in glass growlers. It felt borderline unholy in Portland's craft beer mecca. So they combined their skills and created the uKeg, a growler with a pressurized cap that keeps beer cold, fresh and carbonated. In the next two weeks, GrowlerWerks will use its Kickstarter funds to place a tooling order with its manufacturer, who is ready to get to work.
Huff then added, "We're extremely grateful for our backers and the strong support we received from so many people in the craft beer world. And we're grateful we live in an era of successful crowdfunding and Facebook sharing!" The campaign received 18,000 Facebook shares, which isn't surprising: the uKeg has a pretty face. The functional yet elegant, stainless-steel-and-brass growler hit a chord with beer drinkers.
Pre-orders of the growler and popular accessories are still available. The first growlers off the line will be shipped to Kickstarter backers this spring, of course. A  pickup party is also being planned for June 21 in Portland for any backer who wants to attend. GrowlerWerks will host the shindig in its hometown with uKegs, treats and giveaways.
After that, owners of uKegs can look forward to the end of one of life's great disappointments: flat beer. Their combined commitment of more than $1.5 million makes that possible.
Have a crowdfunding offering you'd like to share? Submit an offering for consideration using our Submit a Tip form and we may share it on our site!