Inspired by Orchard Platform's recently released "Lendscape" – which brilliantly underscores the expanding peer/marketplace lending ecosystem and its movement of capital – I decided to construct a similar flowchart depicting the progression of the equity side of the crowdfinance industry.
The "Equitysphere" below encapsulates the maturation of equity crowdfinance. It illustrates a modern path of business capital formation that is driven by "investumers" (a new breed of retail investors who invest in the companies that make products that they consume), a changing regulatory framework and advanced online marketing technologies. Most significantly, the "Equitysphere" emphasizes the developing infrastructure aimed at helping a mere vision morph into a large cap.
While it may be challenging to capture a complete representation of this rapidly proliferating ecosystem, I look forward to expanding upon this "Equitysphere" as the industry evolves. Feel free to reach out with any thoughts.
Click to enlarge.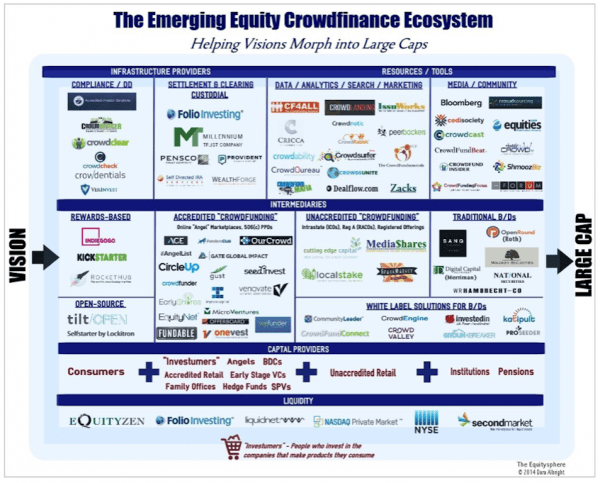 _____________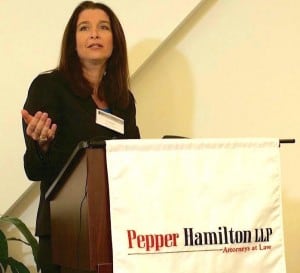 Dara Albright is a recognized authority, thought provoker and frequent speaker on topics relating to market structure, private secondary transactions, next-gen IPOs, P2P and crowdfinance. Albright has held a distinguished 22 year career in IPO execution, investment banking, corporate communications, financial marketing as well as institutional and retail sales. She is a visionary who continues to introduce rising asset classes and crowd-structured financial products to the Wall Street community.
Through her NowStreet blog, Albright was one of the earliest voices covering the JOBS Act and advocating for greater democracy in the equity and credit markets. She produced the very first crowdfunding conference in January 2012 which was headlined by key JOBS Act architects: Congressman Patrick McHenry and Dave Weild. That event helped birth the crowdfinance movement and led to the founding of the industry's trade and leadership organizations. In 2013, she co-founded LendIt which went on to become the largest and most recognized global p2p & online lending conference organization. Some of the most prominent figures in the financial industry as well as the legislature continue to participate in Albright's events. Her leading-edge articles that have helped shape the direction of the crowdfinance industry can be found on Equities.com, Crowdfund Insider, Seeking Alpha, Investing.com and Business Insider. She has been featured in Forbes, ABA Banking Journal, Thestreet.com, Private Wealth Magazine as well as in a number of leading industry trade publications. Albright continues to help issuers, investors as well as financial service providers across the globe capitalize during this unprecedented period of financial industry disruption and regulatory reform.