Edyn announced on Monday (January 5th) that its Garden Sensor and Water Valve have been named a 2015 CES Best of Innovation honoree in the "Tech For A Better World" category as a part of the 2015 International CES. Edyn will be exhibiting at Eureka Park in the Sands Expo Center. Edyn, which debuted during its successful Kickstarter crowdfunding campaign in June 2014, is a solar-powered smart gardening system that monitors and tracks environmental conditions to maximize plant health.
Products entered into the International CES Best of Innovation Awards are chosen by a distinguished group of professionals based on exemplary design and cutting edge engineering. The "Tech for a Better World" category recognizes innovative technologies that impact the world in a positive way.
"Edyn introduces consumers to a new facet of connected devices in the garden from the novice to the intermediate and master gardener alike," said Jason Aramburu, CEO and founder of Edyn. "We are thrilled that Edyn has been recognized for both its technology and design, but also for its commitment to social responsibility. Above all else, Edyn is dedicated to changing the way we grow by incorporating smart technologies that help conserve precious natural resources such as water."
The solar-powered Edyn smart garden system takes the guess work out of gardening with the Wi-Fi enabled Edyn Garden Sensor, which monitors environmental conditions to make smart recommendations about what to plant and when to fertilize. The sensor works alongside the Edyn Water Valve and Edyn App to provide automatic watering options that deliver water when, and only when, plants need it, helping to conserve water and other precious resources.
The Edyn Garden Sensor features include:
 Solar-powered (in addition to a rechargeable lithium-polymer battery when not in full sun)
Wi-Fi enabled and connects to the cloud
Water and fertilizer resistant
Measures ambient temperature, humidity, light intensity and soil electrical conductivity
Edyn iOS app reports soil nutrition, moisture, light and temperature in a clear snapshot of your garden, now and over time. It also provides guidance on how to maximize plant health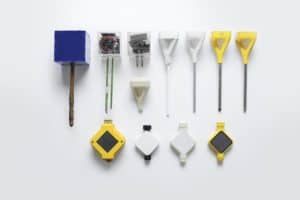 The Edyn Water Valve features include:
Solar-powered (in addition to a rechargeable lithium-polymer battery when not in full sun)
Wi-Fi enabled and connects to the cloud
Fits standard Garden Hose Thread (GHT 1 1/16th" Fittings)
Compatible with most drip irrigation, soaker hose or garden hose-fed sprinklers
Requires household water pressure
 Compatible with most washing machine fittings (may require adapter)
Automatically waters plants only when they need it, based on data from the Edyn Garden Sensor
Edyn iOS app allows manual control of the Water Valve remotely
Edyn will be exhibiting at the 2015 International CES in Las Vegas, Nevada, at the Sands Expo Center in Eureka Park, Space 75104, from Tuesday (January 6th) – Friday (January 9th).
Have a crowdfunding offering you'd like to share? Submit an offering for consideration using our Submit a Tip form and we may share it on our site!