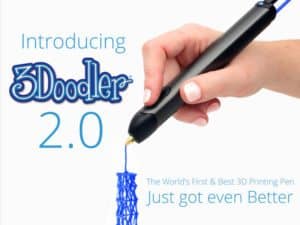 3Doodler has launched a 20-day crowdfunding campaign on Kickstarter for the second generation of its 3D printing pen. The device includes a slimmer, lighter design that is less than a quarter the size of the original and weighs just 50 grams. The team, who have previously raised $2.3m on the crowdfunding giant's platform, are looking to raise funds for the updated version of the pen in a new campaign in a special short campaign aimed at early adopters that will last just 20 days.
Doodler's brand new model has been completely redesigned from tip to toe after more than two years of research and development. More efficient, quieter and sleeker than the original 3Doodler, at 50 grams the 2.0 pen is less than half the weight of an apple. Its stylish aluminum casing gives the pen a more premium feel, alongside internals that include a re-engineered drive system and an entirely new nozzle design.
The new enhanced airflow, which uses a patented fan system, cools the plastic even more efficiently and quietly, while the dual speed control provides perfect precision over your creations. The new JetPack accessory, a portable power pack for Doodling on the move, and one of four new accessories being released for 3Doodler 2.0, allows for over 3 hours of non-stop Doodling with PLA plastic, and over 2 hours with ABS.
Compact and easy to use, the 2.0 pen allows you to literally draw in the air by extruding heated plastic that cools almost instantly into a solid, stable structure. Whether freestyle 3D sketching or tracing shapes from templates to make larger architectural structures, the 2.0 pen allows artists, designers, geometrists, hobbyists, teachers, and architects to test out their ideas quickly and easily.
Key features of the 3Doodler 2.0 include:
¼ the size of the original 3Doodler, making it the same size as a marker pen
Weighs only 50 grams, less than half the weight of an apple
Housed in a sleek anodized aluminum casing that looks beautiful and feels great to the touch
A fully re-engineered drive system, for even smoother 3Doodling
An entirely new nozzle design, for better performance and crisper Doodles
Enhanced airflow to cool the plastic even more efficiently, using a new quieter fan system
Dual speed control, so that you can customize your Doodling experience
Manual temperature optimization, allowing minor flow adjustments for expertly consistent Doodles
More efficient and stable heating due to a reworked heating algorithm
More efficient power consumption
Co-Founder of 3Doodler, Daniel Cowen stated, "Our dream with creating the first generation 3Doodler was to build something that captured the imagination of people worldwide. People Doodled things far beyond our wildest expectations – from RC planes, to 3Doodled dresses, architectural models, and even writing braille. Now drawing in the air just got even better. As we continue in our pursuit to create the world's first and best 3D printing pen, we're excited to see how our community pushes the boundaries of 3D art and creation."
Early Bird pledges start at $50, with the first 100 units shipping within a month of the project launch – almost unheard of for any crowdfunding platform. Combined with other special pledge levels for early backers, this helps prioritize the community who backed the original campaign. The remaining reward levels will be shipped to backers by April 2015.
Max Bogue, Co-Founder and CEO explained
"We're launching on Kickstarter to offer users on the platform the first chance at Doodling with the 2.0 pen. Although we don't expect to raise millions again, it's our way of thanking the community for the support we were lucky enough to receive the first time around. We're at a show surrounded by retailers interested in stocking this beautiful version of the pen in their stores, but it's important to us to offer our dedicated community the chance to own the brand new device first."
For backers enthusiastic about bringing this kind of technology to schools, there is a special Educational Bundle available a part of the campaign. It offers not just a pen for you, but also 12 pens for your nominated school, library or makerspace, accompanied by lesson plans, accessories and bulk plastics. There is also a Special Edition Gold-Colored Pen available for those seeking out the height of luxury in 3D design.

Since its debut, 3Doodler's crowdfunding campaign has already surpassed its initial $30,000 and scored well over $85,000 within the first 24 hours. The project is set to close on Kickstarter January 25th.

Have a crowdfunding offering you'd like to share? Submit an offering for consideration using our Submit a Tip form and we may share it on our site!

Sponsored Links by DQ Promote