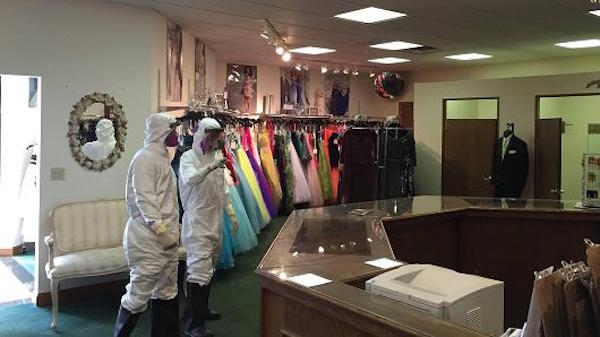 This past October, Dallas nurse Amber Vinson flew to Cleveland, Ohio after she was exposed to the Ebola virus while treating Eric Duncan. Although she was told by the CDC that she was good to go for the trip, Vinson was eventually diagnosed with the virus. The places that she visited were forced to down so they could do a deep cleaning. Unfortunately, one of the stores, Akron-based bridal shop Coming Attractions, is facing closure due to the incident, which has drawn stigma towards the store. Now, a friend of the shop's owner is hoping to use crowdfunding platform GoFundMe to keep the shop open past its May closing date.
Sharing details about the closing, Coming Attraction's owner Anna Younker has announced on Facebook, "I am sad to announce that Coming Attractions Bridal & Formal is being forced to wind down its operations after thirty years of service due to the devastating effect that recent events have had on our business. Despite our best efforts, we simply have been unable to recover.

"If you have a dress currently on order with us or you are planning on placing an order, please do not worry. Coming Attractions will remain open until all existing orders are complete. If you are planning on placing an order all orders must be placed by January 31st. We will contact you when your merchandise arrives and is ready for pickup. We will operate under normal business hours through January. Beginning February 1st, our business hours will change.

"If you have any questions about your order or any other concerns, please stop in our store, email me at [email protected], or message us on Facebook.The decision for me to close was not easy for me. Over the years I have met and worked with the most amazing brides, mothers of brides, bridesmaids, prom girls and many other wonderful people.

"I want to thank all our customers, the people in our community and the well wishers from afar for being so supportive. Your kind words and loyalty have been great comfort.I also want to thank my amazing staff for all of their hard work and dedication to our customers and our business. I appreciate your understanding and support."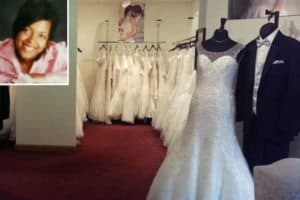 Creator of the campaign, Terri Crispin, also revealed other details about the closing through the campaign's website. "I was heartbroken today when I found out that Coming Attractions Bridal & Formal was closing. You've probably heard of them, even if you don't know their name.
"Amber Vinson, the Dallas nurse who contracted the Ebola virus in October, visited Coming Attractions for a fitting for her wedding gown while she was home in Ohio.  When news broke that Amber had contracted Ebola, the effect on the bridal shop was devastating. Anna Younker, the owner, closed her business for 21 days to completely disinfect the shop and all of its contents at her own expense. She also lost over $100,000 in business at a critical time of the year. Even Amber cancelled her order. Insurance didn't cover any of the losses.
"I called Anna today after hearing the news that they were closing, and asked for her permission to set up this fundraiser. She was very grateful but declined, saying she just couldn't ask people to help.  I persuaded her. Here is my goal – I hope to raise enough that Anna can place orders for inventory for the upcoming bridal season. This is the time of the year she has to do it.  If she can't, she'll be forced to go out of business, and her four employees with be out of a job. I don't want that. It will take at least $60,000 to keep them going.  I've set the goal at only $20,000, but I'd love to beat it. Will you help? And share? Thank you so much!"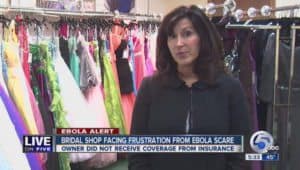 During a recent interview with Cleveland's ABC affiliate, NewsNet 5, Younker stated, "I wish that now she knew better not to travel. The impact its had on me is huge. Never in a million years did I expect something like to cause our business to have to close. It's very upsetting because there's nothing I can do."
Also sharing her thoughts about Vinson's refund request, which she ignored, Younker said, "If she can't support us, what kind of message are you sending to everyone else? Maybe she didn't want to be associated with the 'Ebola store' either."
The media outlet revealed that four other employees of the store will loss their jobs in May, including 33-year-old Kayla Litz who was pregnant at the time when Vinson came to the store and came in direct contact with her. Litz recalled, "I was in my first trimester of pregnancy at that point and I was sick – nausea, vomiting and tired – which are the symptoms of Ebola."
Litz was then monitored daily by the health department for 21 days and luckily didn't test positive for the virus. While sad about the closing, she understands Younker's decision. "The repercussions were endless for her financially."
Have a crowdfunding offering you'd like to share? Submit an offering for consideration using our Submit a Tip form and we may share it on our site!