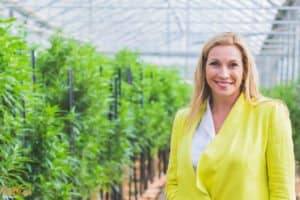 Cheryl Shuman, self-described cannabis expert and erstwhile crowdfunding platform operator, has received a pretty positive write up on NYT.com. Shuman shares her odyssey as to how she became a dedicated Cannabis activist when she was diagnosed with Cancer. Using Marijuana Oil to alleviate symptoms of the illness, it appears she experienced a somewhat miraculous recovery.
Shuman announced this past November she was launching a crowdfunding site helping companies raise funds for all things Marijuana.
Shuman's past has had a colorful spin to say the least.  A convoluted relationship with former action star Steven Seagal generated some work for opposing attorneys. The NYT article briefly describes the period in Shuman's past;
"In 1995, Shuman's already cinematic story line veered to the bizarre, in the person of Steven Seagal, whom she had fitted for glasses on several films. The tabloids learned that Shuman had sued Seagal, the pony-tailed martial-arts expert and action-film star, for sexual harassment and breach of contract after an alleged sexual liaison. Shuman further accused him of hiring thugs to threaten her life, in retaliation for bringing the suit, which was ultimately dismissed. (At the time, Seagal's lawyer called Shuman's claims "frivolous and without merit.")"
Most of the article focuses on her high end Beverly Hills Cannabis Club.  Shuman is a regular user of cannabis "via a vaporizer and seasons her food with it as well".  She has her fair share of detractors but seems to have developed a strong skin of teflon as armor.  In deflecting her "doubters" she responds, "Yes, I made up having cancer to get a reality show seven years later."
No mention of Cannadabbado – her crowdfunding site.  A quick check earlier today indicated the site was down. A response from Shuman said a server transition was to blame.
What's next for Shuman? Apparently she is thinking about a move to Nevada, the next state that is recrafting laws on recreational Marijuana use. "Nevada is the promised land for us … I want to be in Vegas when it goes live."