With only 18 more days until the crowdfunding campaign of their new film Preschooled Preoccupied Preposterous comes to an end, award-winning cinematographer Christopher Doyle and producer Jenny Suen sat down with Kickstarter to share details about his latest project.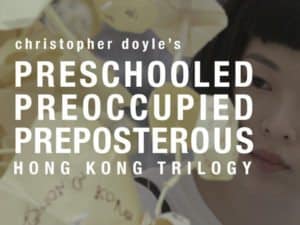 Doyle wrote on the campaign's website, "In the already completed segment, PRESCHOOLED, we interviewed children about their everyday lives. Their voices inspired the narratives we asked them to play, and what they told us in our dialogue became the voice-overs that structure the film.
"In PRESCHOOLED, Little Red Hood sees her brother misbehave and her parents argue. So she prays to Jesus, to Buddha, to Hare Kristhna, to Ganesh. She asked, 'Why are there so many gods in this world? It is because there are so many people who need to be saved?'
"We realized then that her questions have no answers, but asking these questions are what [the] film is all about. What makes our film special is how we made it… a process of finding the film by asking these questions. A less auteur way of looking at the world and hopefully a more real and democratic one."
During the interview, Doyle discussed how he and Suen came up with the concept of the series. "I'll give you a little bit of background. It's strange, because I've shot eighty films, and every time I've directed, I've always just done it. It just happened. This time it happened because the Hong Kong International Festival wanted to do something that was a reflection of Hong Kong kids. We had the idea in 2014. When you're 14 years old, you don't know what it's going to be like when you're 20. We understood the theme of the film to be youth in Hong Kong, and it just evolved from that. Then Jenny did all the work."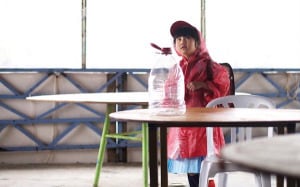 Explaining his filming style, Doyle said, "I'd done many different kinds of films, and one of the films I'd directed previously was in Polish. I don't speak Polish so there are almost no dialogue. This attracts me because visually I can express whatever – what is the poetry of the image? So in this film also there's no dialogue. I didn't think I had the right to speak for the kids – we were giving them their own voice and letting it take us somewhere. It's not a documentary, it's whatever it is."
Suen noted, "There's no script, we didn't ask any questions. We didn't cast actors. We talked to them about their everyday lives, what they want to be when they grew up, what they do after school. From our simple dialogue, we got stories that inspired us to have them act out certain things on screen. The voiceovers you hear in the film are all the kids talking about themselves."
In regards to why they decided to feature kids in the film, Doyle offered up an example that featured Jessica Chastain in one of his previous documentaries. "We had two or three hours, and we didn't have a plan. She got frustrated because she was used to people telling her exactly what to do. I said no, it's fine just walk around, it looks great. So maybe we've been spoiled – there's a certain lack of pretense in Asian actors.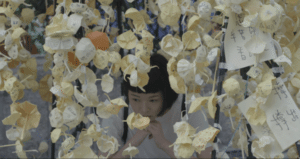 "Some of the greatest actors I've worked with are great people first of all. They're humbled and easy to get along with, and they just do it. Maybe we've been spoiled by that, that we think filmmaking should always be like that, a give and take between what's possible and what's doable. In the style of these things, the interviews in the film are a tangent to what's happening, it's not an explanation."

Since its debut, Preschooled Preoccupied Preposterous has raised $89,942 of its $100,000 goal. It is set to close on February 5th.

_________________________________________________________________

Have a crowdfunding offering you'd like to share? Submit an offering for consideration using our Submit a Tip form and we may share it on our site!

Sponsored Links by DQ Promote