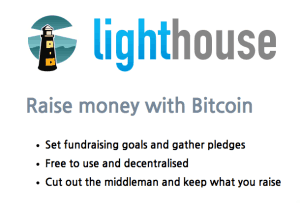 Lighthouse Bitcoin crowdfunding App is now available for download for Mac, Linux and yes even Windows.  The Alpha version was released by Mike Hearn, based in Zurich, last September and after many bug fixes and a reported 18 updates the public beta version is ready to go.  Olivier Jansens was acknowledged for contributing $40,000 for development of a decentralized crowdfunding platform. As part of the launch a charity fundraiser for the BitGive Foundation is live and accepting donations.
Vinumeris, the entity behind the open source Lighthouse stated they "will exit Beta once we feel the product is well tested and stable. Beyond bug fixing, Vinumeris is not planning on any further major upgrades as the current feature set meets our needs".
Lighthouse is a specialised Bitcoin wallet that knows how to pledge money to projects, using the smart contracts features of the block chain. When enough money has been pledged to reach the project's goal you may take the money out of the project backer's Lighthouse wallets. Until that point is reached pledges can be undone at any time without the involvement of the project creator.
In this way you can give money, conditional on enough other people also contributing. If you discover you suddenly need that money, no problem, just revoke the pledge and it will be immediately returned to your wallet without involving the fundraising party.
Alongside the public beta release the creators announced their first Lighthouse project gallery "Crypto Projects Gallery". This was described as an experimental approach to the funding of public software infrastructure and charitable projects. Visitors indicate interest in a project and if sufficient interest is measured the project goes live for real Bitcoin funding.  The creators explained;
"In an ideal world where Bitcoin had little volatility this would be possible. Crowdfunding in Bitcoin requires the goal to be fixed for the duration of the campaign. Because projects might last a long time before gathering enough interest to be viable it makes sense to leave the actual crowdfund to the end and try to keep it as short as possible, to minimise risk from volatility. Additionally, because some projects are "pay on delivery" rather than "pay up front" the value of bitcoin might fluctuate during the development period."
People are invited to submit potential projects but each submission will be reviewed to assure they make sense and are plausible. Vinumeris said "the Bitcoin community has in the past suffered from crowdfunding efforts that were too ambitious and spent the raised money without delivering. So we're looking for developers who are willing to work in small, bite size chunks with fundraising being done after development is done, to keep the risk for both project backers and developers low".

Sponsored Links by DQ Promote