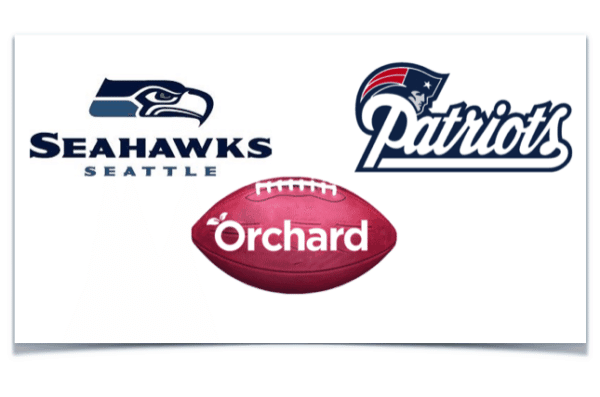 With the big game this weekend, all eyes are on New England and Washington. Sure, most people are focused on the players, the coaches, and the inflation of the balls, but we thought we would look at the 12th man in terms of their performance off the field. We used loan data from Lending Club over 2010 – ­2014 to compare borrowers in Washington and New England on loan volume, borrower financial quality, loan characteristics and performance of loans from 2012. Let the games begin!
#FinishTheJob pic.twitter.com/Zl9JUL7m44

— New England Patriots (@Patriots) February 1, 2015
First Quarter: Loan Volume 2010 ­ 2014
New England is comprised of 6 states, with a combined population about 2 times larger than Washington in 20141. Correspondingly , New Englanders borrowed approximately 2.25 times as much as their Washington counterparts, slightly higher than would have been expected by population alone. By state, Massachusetts and Washington had similar total amounts borrowed, and both increased steadily from 2010 ­ 2014.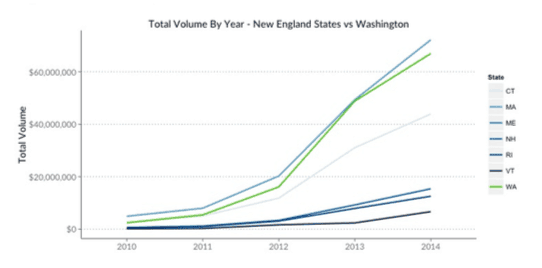 Advantage: TIE
---
Second Quarter: Borrower Financials
In 2014, the average borrower in New England had a slightly stronger financial picture, with better average income, FICO, home ownership rates, debt­to­income ratio, and revolving credit utilizations. The differences between the two populations in these categories were statistically significant, as determined by Welch Two Sample t­tests and Pearson'sChi­Square tests. Welch's Two Sample t­test is used to determine if two data sets have the same mean, and is therefore useful for continuous data, while Pearson's Chi­Square test is used to compare the distributions of counts for categorical data, such as Home Ownership Status.
Revolving Credit Utilization
Advantage: NEW ENGLAND
---
Third Quarter: Loan Characteristics
For loans originating in 2014, average characteristics and percentages of term, type, and purpose were similar between the two regions. However, loans to borrowers in Washington had an average yield that was 0.4% higher, but were $400 lower.
The distribution of ratings were similar, although New England has a higher percentage of A­rated loans and a lower percent of D­ and E­rated loans
The final walk-thru of the season. We are ready. Love our brothers. PHOTOS http://t.co/A3ZDwMvELR #SB49 pic.twitter.com/oHVjWoPvrJ

— Seattle Seahawks (@Seahawks) February 1, 2015
Fourth Quarter: 2012 Loan Performance
After 3 comparisons, we have a close matchup. However, as in Sunday's game, its performance in this final quarter that matters most, and here New England borrowers perform better than those in Washington . Although loans from Washington have a higher interest rate, calculated as total interest received over outstanding principal for the first 24 months of payback, they also have a 2% higher charge off rate. The net result is a 1.6% difference in Net Annualized Returns.
Winner: NEW ENGLAND!
Will this also be the outcome of Sunday's game? This unabashed Patriots fan can only hope.
---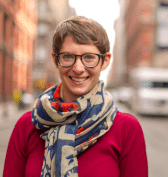 Catherine Pargeter is Analytics Manager at Orchard Platform. She focuses on client risk models and analytics.  Before joining the team, Catherine worked as a quantitative and equity research analyst for a socially responsible investment firm. Prior to that, she was a Peace Corps Volunteer, based in southern Malawi. She has her masters in Environmental Science and Management, specializing in Corporate Environmental Management and Pollution Remediation Modeling, from University of California, Santa Barbara, and her bachelors in Industrial and Operations Engineering from the University of Michigan


1 http://www.census.gov/popest/data/state/totals/2014/tables/NST­EST2014­01.csv

Sponsored Links by DQ Promote