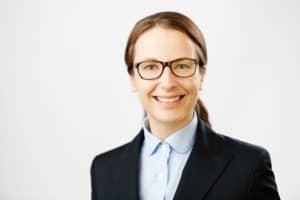 Christin Friedrich
 serves as the
Managing Director of Innovestment GmbH
, a crowdfunding venture which began four years ago.  After studying Public Management and Governance at Zeppelin University, Friedrich sought creative solutions and innovative business ideas in several international projects, including a tourism startup in Iceland  and group for young professionals in Belarus.
Innovestment is a pioneer of equity-based
crowdfunding in
Germany
 that focuses on innovative technology companies. To date,  28 companies have raised 2.5€ million in private venture capital since 2011 via the innovestment platform, which has the highest average investment ticket per investor/per startup in Germany. Award winning companies like the e-mobility startup Plugsurfing GmbH received their first funding via Innovestment. The Berlin-based platform aims to

create new possibilities for startups seeking capital, providing an equity piece of a puzzle of interdigitate financing instruments and preparing for second round financing. For private investors, Innovestment creates new opportunities by offering investments in the real economy next to other products like fast monetising project financing. Innovestment is a game changer in the investment scene and
founding member of the European Crowdfunding Network.
  I recently had the opportunity to connect with Friedrich via email to discuss Innovestment's trailblazing platform and the regulatory status of crowdfunding in Europe.  Our interview follows:
Erin: What led you to join Innovestment?  
Christin: I returned to Berlin after spending two years as an entrepreneur in Iceland. I had become very familiar with the hurdles of raising capital for startups and was motivated to continue to grow interesting concepts. I met with a friend from University, Thomas Herzog, who shared his experiences about the company Innovestment. I felt inspired by these new ways of raising capital and later on Herzog, the former CPO, invited me to join.
Erin: What is the leadership structure in place among the founders? Describe the team and its experience.  
Christin: Innovestment was founded in 2011 by PhD students attending the University of Applied Sciences at Aachen, Germany. This well recognised university specializes in subjects such as business, engineering, technology and design. It was through their extensive research during the completion of their PhDs and their experience coaching startups that they recognised the demand for alternative financing and formed one of the earliest equity-crowdfunding platforms in Europe.

This first team of entrepreneurs brought Thomas and myself onboard to grow the company as they pursued other avenues. Our current team is a diverse one, multi-nationals with experience ranging from former M&A consultants to historians. Although uniquely different, we find ourselves all passionately fighting for entrepreneurship and innovation. We strive to bring a human-centered approach to the industry of alternative financing.
Erin: How does Innovestment differentiate, engage, lure and keep entrepreneurs on its platform?  Please describe the services offered and key investors. 
Christin: Innovestment.de has 6,000 registered investors and is specialized at partnering startups through three different avenues, mostly in the technology/science field. Once we have done our own assessments and feel confident in the project, business model and people behind it, we provide them with tools, information and connections to utilize our database. Obtaining legal information and consultation is very costly, so we save young companies both time and money at a crucial stage of their growth. We know that the best partners/angels don't just bring capital, they also bring their own intellectual value and network, which is why we work hard at matchmaking for a profitable outcome.
Erin: Describe your partnerships with RoenerBroennerSusat and WSS Redpoint and how Innovestment benefits from these relationships. 
Christin: Our team has developed a special legal structure for equity crowdfunding which is a very recent platform. We pride ourselves in being the first, giving us a head start in the trial/error processes of various frameworks in this sector and it is with our peers Peter Siedlatzek and Björn Brücher from WSS Redpoint as well as Dr. Steffen Meining and Siegfried Glutsch from RoenerBroennerSusat, that we can share our successes.
Erin: What campaigns are currently percolating at Innovestment?
Christin: Immanitas Entertainment GmbH, a games distribution company which benefited from Innovestment.de in December 2012, has partnered with us again on a new unique type of live "project" funding called Mobile Games Portfolio.

The games industry is growing at a high rate and along with CEO Christian Sauerteig, we have come up with a way for investors to see returns 6 months after funding with low risk, an alternative option for those looking to invest.
Erin: What do you think about the regulatory environment for crowdfunding in Germany? What about the rest of Europe?
Christin: Germany's regulators have placed their emphasis on the protection of the consumer with a new law, Kleinanlegerschutzgesetz. Unfortunately this entails an over-complicated and costly process for investors as well as platforms. Once this law has passed, later this year, it will be forbidden to advertise projects through social media. This is just one disappointing factor of several and will lead to missed opportunities and competitive disadvantage within Europe.

All parties involved in these platforms welcome investor education and encourage transparent processes, as well as information policies. It would, however, be more beneficial to adopt the pro economy attitude which is evident in the UK.

We the members of the European Crowdfunding Network (ECN) are in favour of a single european crowdfunding framework, putting ideas and suggestions on paper and debating it with representatives of the European commission. This is very forward thinking, and with so many diverse countries, it may take time and perseverance, but we believe it is the future.
Erin: In a recent interview with Karsten Wenzlaff, he noted Innovestment as a leading crowdfunding platform run by a female entrepreneur. What does this mean to you? 
Christin: The finance industry as we know it may be male-dominated, but this new era of alternative sourcing has made way for some fresh perspectives from female entrepreneurs. I am proud that they are being recognised as role models and hope that it encourages more women in the field for much appreciated diversity. My ambition is to see more women investing knowledge and capital.
Sponsored Links by DQ Promote