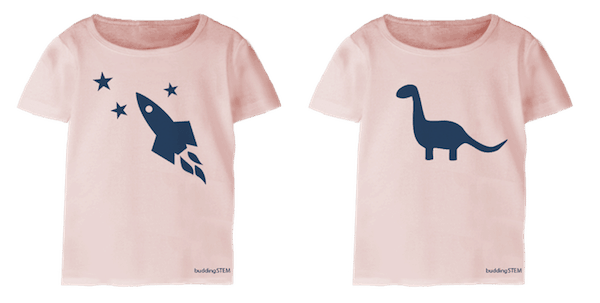 On Wednesday (March 11th), Seattle mothers Jennifer Muhm and Malorie Catchpole took to crowdfunding giant Kickstarter to raise $50,000 for their new all-girl clothing line, buddingSTEM.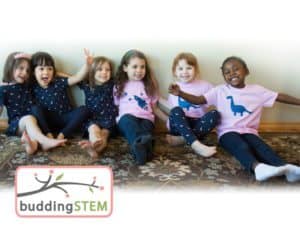 buddingSTEM is notably unique because it is a complete line of girls' clothes celebrating science, space, dinosaurs, and basically helps to drop the "girly girly" image. The company's story began in October 2013 when Muhm's daughter was seeking an astronaut costume for Halloween.
Unfortunately, when they began the outfit search, all Muhm and her daughter could find was little boys dressed for space. After that, they designed a costume based on photos of female explorers Sally Ride, Joan Higginbotham and others.
Catchpole's daughter then asked for train underpants, but was only able to find them in the boys' section of a store. These two situations inspired the ladies to create a clothing line that would feature more than just flowers and rainbows for girls, it would also reflect on STEM interests, like space and engineering.
During a recent interview with GeekWire, Muhm shared details about the company and how the costume and underpants really helped the moms see the light:
"The great story we tell in the Kickstarter video is when Malorie's daughter asked for train underwear, and it was only sold in the boys' section, but Malorie and Dan [Catchpole, Malorie's husband] decided to buy it anyway for Christmas. It was a week after, in the Chipotle parking lot, when we ran into them and started talking, 'We really need to think about this, to make underwear for girls with dinosaurs and trains and all these things that girls really like that doesn't exist for them.'

"The more we talked about it, it was like, 'Why just do underwear?' There really are no leggings or dresses, and really only a smattering of T-shirts out there for girls in traditional 'boy' things."
Discussing her and Catchpole's fashion background (or lack there of), Muhm explained:
"Malorie is an attorney, and I work in public affairs, so neither of us have a background in fashion. Once we had the idea, we started doing a lot of research and talking with family, friends and contacts. We met with at least a couple dozen people about this time last year, and we got our business license established and started looking at manufacturers.

"Last June, we went to LA to attend a kids' clothing trade show, and that confirmed for us that there really are no products like this available. We met with manufacturers there to learn about the whole process. We've also done an extensive search for fabrics as well and really couldn't even find a fabric selection. So it was like, 'OK, we're going to have to design the fabric ourselves.' Through different contacts, we found a textile designer to take our sketches into a print. Then once we had designs made, we had them screen-printed in LA."
Also noting what the ladies plan to do once the project is funded, Muhm revealed:
"When we're fully funded, we can go into production with our first two prints with T-shirt dresses, leggings and T-shirts, and then we also will be able to start working on additional prints. At least through Facebook and personal conversations, we've had moms request T-shirts, pajama pants or yoga pants, so who knows? Maybe we'll do adult products at some point."
In regards to how soon the line will be out and expansion ideas, Muhm added: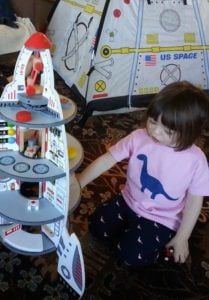 "We're anticipating to be on sale in July. We plan to sell through our website, but we've also done a lot of research on where a lot of local children's boutiques do their buying, and we've met with a couple people who do the wholesaling in LA. That's a possibility for us, too, to work through LA Fashion Market or another rep to work with buyers to get them into stores.
"Not to give away our great ideas, but I think there's such a need for products like this for girls — that these aren't just boys' things — these are for all kids. All kids love dinosaurs. All kids love trains. All kids love space. It feels unlimited at this point where we could go with it.
"Backpacks, bedding, when you go into a store, or catalog, or go online, there are very gender-specific items. Girls get ponies and ballet slippers, boys get the dinosaurs, trucks and trains. Seeing it as a parent, with my own child saying, 'I can't do this.' We can say, 'Not only are there a lot of great female astronauts through this project, but hey, if you don't like the way something is, or think it needs to change, you can do that yourself. You can be a leader and you can help create that change.'"
buddingSTEM's Kickstarter is set to close on April 10th.
____________________________________________________
Have a crowdfunding offering you'd like to share? Submit an offering for consideration using our Submit a Tip form and we may share it on our site!