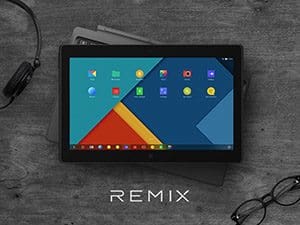 On Thursday, China-based Jide Tech, hit crowdfunding giant Kickstarter to raise $100,000 for its new Android tablet, Remix.
The Remix is considered an Android 4.4.2 based, 11.6" ultra-tablet that provides "the best" mobile productivity and communication experience for all of its users.
The company stated:
"[The tablet] exists because in early 2013, we had a vision: that the future of personal computing would be on big touchscreen mobile devices. Then we innovated with singular focus based on that vision.

"Imagine being able to run 100% of the apps available on Google Play, while also being able to create content easily and seamlessly. Tweet, write emails, and watch YouTube at the same time in multiple windows… on a tablet! Our vision of big screens would be meaningless if we didn't put the extra real estate to use."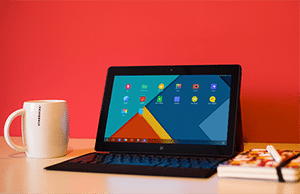 Unlike other Android tablets, Jide Tech customized the Remix so that it's optimized for both big touchscreens and keyboards. Its features include:
Taskbar: Allows users to manage and switch between running apps.
File Manager: Helps users find and manage files easier.
Multitasking Capabilities: Users are able to have multiple windows (like a regular laptop).
The company is also offering a Remix community, which allows backers to become a "Remixer" and help them build a better product by giving feedback.
How it works:
Join the Facebook Remix community page.
Send them feedback and suggest changes or features to Remix OS.
They will collect the feedback biweekly and filter it based on feasibility and common sense.
The list will be shared within the community and the suggestions will be put up to a vote. The top vote-getting feature(s) will be realized into a future version of Remix OS.
Active Remixers will receive periodic offers from us for other goodies in the future.
Noting the risk and challenge they may encounter along the way, the Jide Tech team shared:
"We have a dedicated team located within a 30min drive from the manufacturer so that we can deal with issues that may arise in person and in real time. Our team is staffed with experienced professionals in the sourcing and hardware manufacturing industries. Their expertise and proximity to the factory should be able to mitigate any of the manufacturing issues that may come up.

"We're working with highly experienced logistics partners to help us mitigate any of the issues that may arise with shipping. If shipping issues come up, their expert knowledge will help us navigate through difficulties and help us get Remix into your hands."
Since its launch, the Remix has not only surpassed its initial $100,000 goal, it is currently sitting at $125,000 from 756 backers. It is set to close on April 24th.

___________________________________________________

Have a crowdfunding offering you'd like to share? Submit an offering for consideration using our Submit a Tip form and we may share it on our site!

Sponsored Links by DQ Promote