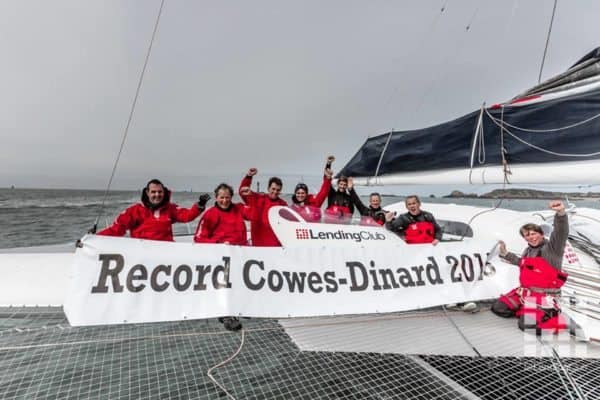 Renaud Laplanche is best known for turning the world of finance upside down by launching Lending Club – the worlds largest peer to peer lending platform. What you probably did not know is that he is an avid sailor too – and a competitive one at that.  According to a Lending Club report, Laplanche, along with his co-skipper Ryan Breymaier, has set a new world speed sailing record crossing the English Channel. Starting from the Royal Yacht Squadron Cowes, Isle of Wight to France in just 5 hours and 15 minutes.  They accomplished this in their 105 foot trimaran aptly titled Lending Club 2. Now the record needs to be ratified by the World Speed Sailing Record Council, but according to the report LC2 averaged an impressive speed of 26.36 knots under sail.
The previous record was set in 2002 at 5 hours and 23 minutes. The "Maiden II", captained by Brian Thompson, skippered the 110 foot catamaran at an average speed of 25.6 knots.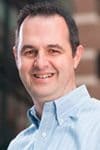 "After our attempt at breaking the Transpacific record in 2013, we had been working on assembling the right boat, crew and weather conditions to make another record attempt," said Laplanche. "The Cowes to Dinard record is a very special challenge that had been around for over 10 years; I am very proud of what the crew accomplished today."

"We always knew the Cowes to Dinard record would be very tough to break as Maiden set the bar high. We're overjoyed with our result today; it's a great start to our record-breaking plans for the year," added Breymaier, member of Royal Ocean Racing Club.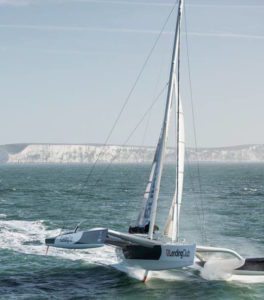 Laplanche has personally chartered the 105-foot offshore trimaran, formerly "Banque Populaire 7,  and renamed it "Lending Club 2" for a series of races and record-breaking attempts throughout 2015. The boat had been stationed in Gosport, UK waiting for the perfect weather window, while Laplanche flew in at the last minute on Monday to take the helm once weather conditions had been confirmed.

Other crew members included Jan Majer, Stanislas Delbarre, Olivier Laplanche, navigator Boris Herrmann, French racing veterans Jean-Baptiste Le Vaillant and Roland Jourdain, and OBR Quin Bisset. Shore based weather routing was provided by Wouter Verbraak.

Sponsored Links by DQ Promote