Hoping to rescue the state of California from its devastating drought, 84-year-old actor William Shatner has announced plans to launch a $30 billion crowdfunding campaign on Kickstarter for a pipeline that will bring water to the endangered state.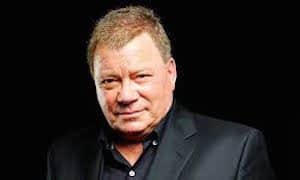 During an interview with Yahoo! Shatner stated:
"California's in the midst of a 4-year-old drought. They tell us there's a year's supply of water left. If it doesn't rain next year, what do 20 million people in the breadbasket of the world do? It'd be fifth in line – we're about to be arid! What do you do about it?"
Sharing what he plans to do, the Star Trek star explained:
"So I'm starting a Kickstarter campaign. I want $30 billion… to build a pipeline like the Alaska pipeline. Say, from Seattle – a place where there's a lot of water. There's too much water. How bad would it be to get a large, 4-foot pipeline, keep it aboveground – because if it leaks, you're irrigating! Bring it down here and fill one of our lakes! Lake Mead!"
Right. Beyond the fact that raising $30 billion in crowdfunding is unrealistic at best, Shatner said:
"No, it's simple. They did it in Alaska – why can't they do it along Highway 5? This whole area's about to go under!"
In regards to what will happen if he doesn't reach the funding goal, William added:
"If I don't make $30 billion, I'll give the money to a politician who says, 'I'll build it.' Obviously, it's to raise awareness that something more than just closing your tap… so why not a pipeline?"
Ok. Mission accomplished.
Have a crowdfunding offering you'd like to share? Submit an offering for consideration using our Submit a Tip form and we may share it on our site!